The Delusions Of Abia Governor Ikpeazu Of Abia State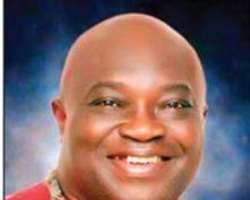 Recently at an Adventist Church conference held in Enugu, a city which I am told is now the official residence of Ochendo Global, T A Orji, ex-Governor of Abia state, his handpicked Supreme Court successor Dr Okezie Ikpeazu was reported to have compared the size of his God to that of his detractors, insinuating also that he never hoped of being Governor but came to be one by the providence of his God. By this admission, it is now easy to understand why the man is clueless as to what he plans to achieve as Governor.
The man never anticipated the job and as such was not prepared for the duties of a Governor unlike Dr. Alex Otti who planned for the job, and prepared for it with a mission in mind, so much so that he financed a study of the state and identified areas of concern and solutions to them ever before he declared for the office. The Governor was also reported to have professed his forgiveness of Alex Otti for contesting against him, adding that he was praying for him.
What a joke? When I first read those comments the first thing that came to my mind was, this man cannot be serious. He truly believes his Governorship was ordained by God. Which begs the question, which God is he talking about? For all I know, if the God I worship is the same God that condones stealing, then I must be serving the wrong God. To say he has forgiven Dr.Otti, a man whose election he stole is not only an insult but a gross affront to the intelligence of the Abia people.
For some reason,Dr. Ikpeazu strongly believes he is loved by the Abia people and that they overwhelmingly voted for him. Nothing can be far from the truth, hence, he must be hearing and dancing to the tune of a drummer his subjects do not know about. The man is like a suitor who has refused to take the hint that his beloved does not love him and has never loved him. As a consequence of her non- affection for him, she has been giving him all kinds of hint that she wants out of the relationship. The problem is that the man just can't take a hint, instead, he has been living in a kind of fantasy world largely defined by a few delusions.
The first is the most fleeting. Dr Okezie is convinced that that as long as a section of the Ngwa public is behind him, his failures as governor will continue to be glossed over and the opinions of all other communities would be of no consequence. The fact that his kinsmen do not see or acknowledge his incompetence is not disputable, I am sure what the Governor is confused about is why the rest of the state are reluctant to embrace him as Governor despite his feeble much- publicized effort to fix a few roads in Aba.
His second delusion is to believe that this love affair with a section of the Abia citizenry will last forever. The truth is that every love affair has a probability of turning into hate. Right at this moment he is oblivious to this possibility, especially when they get to realize that their son being Governor has not changed their lives or their living standards.
His third delusion is the belief that he will be able to rig himself into a second term. This probably explains his reluctance to conduct local Government council elections, hence, it is his intention to use Transition Chairmen appointed by him as rigging agents for the 2019 elections. Despite all his administrative failings, if there is one thing I give him high grades for, it is his ability as a quick learner to master Ochendo's political playbook. He knows that if he conducts local Government elections there is a high probability that some of the Council seats will be won by APGA candidates, especially Aba North, and South as well as most of AbiaNorth, if the present number of APGA State Assembly members is used as reference point.
I will be the first to confess that he is not the only Governor guilty of this, as there are other Governors who also are reluctant to conduct local Government elections, some for the same reason, others for the sole purpose of keeping the Local Councils federal allocated funds. In view of this, it, therefore behooves the Abia Public and indeed Nigerians to demand that the National Assembly pass a law forcing State Governors to conduct local Council elections as well as give their federal allocation directly to them and not through state Governors.
There is no doubt if Local Government elections are held and the enabling law backing the use of the Card Reader is passed by the Senate, rigging elections in 2019 will be a much more difficult proposition . With these changes and the greater awareness of the Abia people regarding the incompetence of this Governor, a second term will not be a sure thing as expected. I am sure at the end of his four- year term, Abia voters must have learned a great deal and will be more than ready to make a change after 20 years of destructive PDP rule.
The fact is that PDP has been a curse on the Abia people. They have plundered the state and have left it in ruins. When you visit Anambra state, a state that was created at the same time as Abia and see the development strides that have taken place there, you begin to ask yourself if Abia state is cursed. No, we are not cursed. All we have done is to continue to pick or allow ourselves to be rigged out of our political preferences by crooks.
There is also no denying the fact that our state harbors the largest number of praise singers and sycophants who for stomach infrastructure benefits are willing to swear with their lives that their government is doing well. How can anyone explain the recent conferment of a chieftaincy title and a heap of platitudes on Ex -Governor T A Orji by a group of Ngwa traditional rulers despite all the atrocities committed by him? The irony of this situation is that all over Abia state we have bastardized the award of traditional titles. .. It is now more akin to cash and carry, hence we are beyond redemption.
As much as we need a change in governance, our people also need to change. We must not let ourselves be intimidated from exposing the wrongs of this Governor or the failings of his administration, with the goal to voting him out in the next elections. This is a Governor who collected 14 billion Naira bailout fund from the Federal Government and still owe worker's salaries and pensions and yet no one is asking the pertinent question, what happened to the money until Dr. Alex Otti made mention of it in his recent write-up in ThisDay?
The incontrovertible truth is that the money was used in bribing the various election tribunals, a clear indication of an administration that believes they are not accountable to anyone. That notwithstanding, the Governor has refused to inform the Abia people, how much money he collects monthly as his security vote and the rationale for doing so considering the increased rate of crime, kidnapping and other vices in the state. As expected despite the public outcry to make public the contents of the 2016 state budget, Governor Ikpeazu has refused to do so.
For those who think the next 3 years will be better, please don't hold your breath. Like the celebrated writer peter Ustinov once wrote, "the point of living and that of being an optimist is to be foolish enough to believe the best is yet to come". Anyone who thinks this Governor will do any better than his performance so far is living in a dreamland. Of course, there is nothing wrong with wishful thinking and I do not begrudge those who are so inclined.
What we are experiencing today in Abia state which stands no chance of changing is a cacophony of lies bandied about by a clueless administration which has no master plan for the transformation of the state. All we read or see in the news is one road project flag off or another in Aba, as well intentioned as it is without any mention of the other sectors of the economy or government. There is hardly any talk about Healthcare, Education, Youth Employment etc.
The Ikpeazu administration in their collective wisdom of stupidity seems to believe that fixing roads alone in Aba will earn him public adulation and a second term .Well, time will tell. I will end this write up by referring all those who think people like me are just blowing off steam to the words of Albert Einstein who said, "great spirits have always encountered opposition from mediocre minds. The mediocre mind is incapable of understanding the man who refuses to bow blindly to conventional prejudices and chooses instead to express his opinions courageously and honestly'.
Nnanna Ijomah is a New York based Political Science lecturer
Disclaimer:

"The views/contents expressed in this article are the sole responsibility of the author(s) and do not necessarily reflect those of The Nigerian Voice. The Nigerian Voice will not be responsible or liable for any inaccurate or incorrect statements contained in this article."
Articles by Nnanna Ijomah