Why Fayose Needs To Be Taken Serious, Respected and Appreciated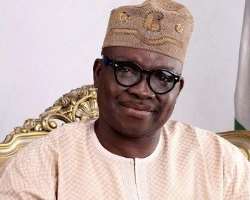 Without any form of doubt, it will be apt to say that: of all the members of the People's Democratic Party(PDP) playing the role of opposition, the Ekiti State Governor, Ayodele Fayose have the leading and loudest voice. It is so heartbreaking, however, to see many Nigerians, especially members of the All Progressive Congress(APC), always throwing to the bin all his contributions, criticisms and suggestions without looking at the intention whatsoever. Infact, some have even taken him to be a clown that has replaced the erstwhile First Lady. They just pounce on his commentaries and make a 'laugh out loud' out of it. They are unconscious of the fact that even in comedy, there are a thousand and one lessons to learn.
Governor Fayose is as important as anything imaginable to be the most important; to the historical and democratic development of our country, Nigeria. This is because of the fact that he is a key player in the field of opposition – take it or leave it. He is the one of the few Nigerians who can challenge the government of the country, come rain, come sunshine. And the importance of opposition and criticism in a democratic setting, most especially a country like Nigeria, cannot be overemphasized.
As you know, the president of Nigeria, President of Nigeria was a former military dictator and a born again democrat. If he his left to lead the country without any form of opposing or criticizing voice, this may be a penetration that will reborn the dictatorial tendency in him. Since a government who has no time for critics or that which doesn't want a critic or always not wanting them is the very definition of dictatorship - which is not a feature of democracy. Therefore, for Nigeria not to practice an indirect dictatorial system of government, there is need for the ruling party to take serious the opposition's criticisms and equally work on them.
The reason for the last paragraph is that, many of the APC members are not ready to listen to any form of opposition or criticism. It shows in their body language. What it seem that they want is a situation where all Nigerians will always agree and support any of their steps – which is not possible. They have the mindset that ' no good thing can come from Nazareth'. And this is actually not true. Even in the bible, 'good thing' came from Nazareth – good things can also come from PDP. Although, when the PDP was the ruling party, anyone that has been following national politics will agree with me that the party gave a wide room for opposition/criticism. Nasir El-rufai, Amaechi, Fashola, Oshiomole and others are testimony to this fact. Why then do this present government and her supporters not looking at their side? Who knows wether the APC led government knows it all, are perfect orare too big to be criticized?
Look, the point is that: criticism is needed in a democracy – for it to foster well. If all we still do in Nigeria is like what Boxer does in Goerge Orwell's Animal Farm – Napoleon is always right – we may end up achieving nothing or not getting to the promise land on time. The Nigeria of today needs political critics more than anything. However, what is needed the most is a constructive criticismand not an hatred induced one.
THE USEFULNESS OF FAYOSE IN HIS OPPOSITION ROLE
Since many have seen him as a clown, I will crave the indulgence of this reader to eraze such a notion off the mind. Fayose is useful – if not for any other thing but for his role of 'opposition criticism'. Many a time, we only look at the literal meaning of his words and action and take no time to look at the reality and authenticity of his actions. Can he be always wrong? Your guess is good as mine. And since this is the case, he needs to be at least, listen to, very carefully when he speaks.
I am very sure he his not out of his sense . He knows what he is actually doing. Who then tells you he has been saying rubbish all this while? Look, he has been making sense. Although, he speaks rubbish at times. Who knows whether that is his style of criticising? Have you ever thought of reflecting on his commentaries? I mean a deep reflection. Have you ever tried to make sense of his 'nonsense'? Maybe you should try that, for you to get the gist of this piece.
At least, we have someone who is remembering the government to be on their toes. If not for Fayose, who would it be? All these men have kept quiet because of Buhari anti corruption strokes.They arekeeping quiet to keep there souls from trouble
.As he is the only one, of the few, that is brave and have been preventing the nation from being a dictatorial government. Who knows if Fayose is not speaking this way whether anyone won't be speaking. Who knows? That is the reason why he needs be appreciated, applauded and taken serious. For he speaks the minds of many voiceless Nigerians and those politically voiceless ones. The importance of criticism is the importance of Fayose!
On the final analysis, there is the need to encourage Fayose to continue with the 'good work' but he needs to make some corrections. He needs to do more of constructive for he to be taken more serious. Because that is what the country needs at this juncture.
Festus Ogun is a law undergraduate of OOU and blogger. He can be reached on [email protected]
Disclaimer:

"The views/contents expressed in this article are the sole responsibility of the author(s) and do not necessarily reflect those of The Nigerian Voice. The Nigerian Voice will not be responsible or liable for any inaccurate or incorrect statements contained in this article."