Army-Shiite Clash: Islamic Groups Disown Zakzakky Before Commission Of Inquiry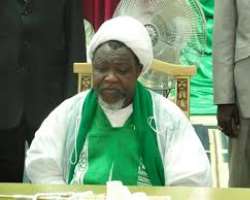 The Judicial Commission of Inquiry yesterday continued its sitting with testimonies from various individuals even as prominent Muslim leaders in the nation have publicly distanced themselves from the Islamic Movement of Nigeria ( IMN ) and it's leader Sheikh Ibraheem El Zakzaky.
At the commencement of hearings the Commission entertained testimonies from erudite Islamic scholars who described Zakzakky's brand of religion as anti Islamic; whose beliefs and teachings go contrary to the dictates of the Quran as he described the IMN as more of a terrorist organization than any religion in the world.
In his presentation, Prof. Garba Bala from Usman Danfodio University, Sokoto, berated the IMN and its teachings while applauding the Nigerian Army in its efforts at subverting the activities of the IMN. He described the intervention and conduct of the military as timely and professional not only to save the Chief of Army Staff who was marked for assassination but the entire neighborhood who have had to live in perpetual fear of these elements.
Also speaking before the Commission, Muhammed Balarabe, a popular cleric from Zaria Emirate also criticised the activities of the IMN. According to him the sect had grown large enough to have taken laws into their hands.
He also narrated a typical incident to the Commission where he was held in a traffic for more than six hours just to get access to his residence. The cleric thus commended the officers and men of the Nigerian Military for their conduct and professional approach during the crisis and while also pledging his organisation's continued support to the Federal Government of Nigeria for rainy to their responsibilities.
Others who hailed the actions of the military while berating the shiite members include the Coalition of Muslim Ulamas which was represented by ENGR. Bashir Adamu Aliyu. In his own testimony he described the activities of the IMN as evil, explaining that the doctrine of the IMN contradicted the teachings of Islam and therefore called on the government to do something very urgent before the situation gets out of hand.
He further tendered some video clips which showed how El-zakzaky and his wife at different fora called for total revolution against the government. The clips were tendered as exhibit before the Commission.
However as most witnesses testified against the IMN, condeming it, Prof. Dahiru Yahaya, a lecturer with the Bayero University in his presentation shared the doctrine and ideology of the sect. He testified in support of El-Zakzakky and his members. He seems to share the same doctrine and ideology of the IMN even as he presented himself as a potential member of the shiite Islamic Movement.