JACKIE CHAN IN EARTHQUAKE CHARITY GIG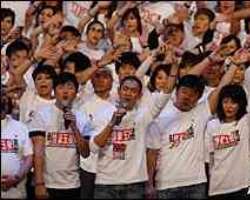 All money raised will go to the quake victims
Hollywood actor Jackie Chan has joined more than 100 stars from Hong Kong, China and Taiwain in a charity concert for the recent earthquake in China.
The five-hour gig in Hong Kong raised $4.8m (£3.1m) for victims of the quake, which killed more than 2,200 people.
The disaster struck China's Qinghai province earlier this month.
Chan, who visited the affected area last week, featured in a video produced for the fundraiser, which showed him living with the victims.
Donnie Yen, Leon Lai, Sammi Cheng and Barbie Hsu all participated in the Artistes 414 Fundraising Campaign concert.
Actor Andy Lau said: "The quake area is located in a plateau. It's ten times worse than we thought. And the winter will come soon. It is urgent to take action."
One week after the area was devastated by the disaster, China observed a national day of mourning for victims.
Flags flew at half mast across the country and public entertainment was curtailed as a mark of respect.