Initiate policies for real sector growth – TUC tells FG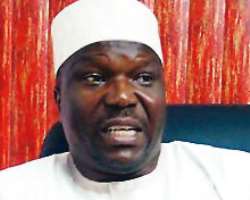 President, Trade Union Congress (TUC), Comrade Bobboi Kaigama has advised the Federal Government to initiate and implement clear-cut policies that will promote conducive environment for the private sector to thrive.
He said the creation of conducive environment for manufacturers would involve commitment to sustainable development, restructuring of the financial system in line with people's needs, and an urgent response to the challenge of human-induced change.
He said: 'The government provision of enabling environment for the industrial sector is proving that the power of collaboration between government and the private sector is enormous. We are seeing markets beginning to transform from within, based on actions taken by business to respect and support human rights, provide decent work, account for environmental impacts and end bribery and corruption.
'The challenge of national development is for the government to manage the economy in such a way as to promote job-led growth rather than the present situation of jobless growth.'
Kaigama said the government should decentralise the economy for development to take place rather than concentrating on the petroleum sector, which continues to be an enclave.
'I strongly believe that to promote development and growth, there is need for government to go into partnerships with the private sector on selective basis until such a time that the domestic private sector becomes fully developed,' he added.
On the recent International Monetary Fund (IMF) projection that cut Nigeria's growth forecast amid oil slump, he said: 'We are not surprised that when in February this year, after IMF officials visited Nigeria, after the Fund had forecast 3.2 per cent growth for Nigeria in 2016, the shift in the new position would take place so soon.
'The Fund said the key risk to the outlook is risky because the government of Nigeria has not danced to its tune of naira devaluation, and which the report said includes;  lower oil prices, shortfalls in non-oil revenues, a further deterioration in finances of states and local governments, deepening disruptions in private sector activity due to constraints on access to foreign exchange, and resurgence in security concerns, and that Nigeria's general government deficit would grow further after doubling to 3.7 per cent of GDP in 2015″.
Kaigama said labour is worried that as the discussions between Nigeria and the World Bank are continuing on a possible loan, or credit facility that is tied to policy reforms in the West African oil exporter, the government might be forced to take some of the Fund policy advice that may be detrimental to the economy in both short and long run.
He said the best option for Federal Government is not to swallow IMF's bait, but to look inward by using the Public-Private Partnerships (PPP) to develop the economy. The Nation