Massive Protest For The Release Of Sheikh Zakzaky From SSS Custody Held In Several Cities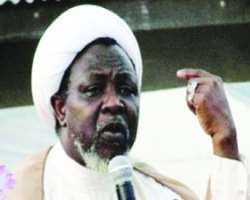 Tension in the country as members of the Islamic Movement in Nigeria across several cities staged a coordinated massive protest, demanding for the release of Sheikh Ibraheem Zakzaky from SSS custody.
Protests were held in Kano, where thousands of men and women, the young and old match through the major streets of the city, calling on the federal government of Muhammadu Buhari to release Sheikh Zakzaky who is in detention at the SSS Custody for the past four months now.
It was the same story in Azare, Bauchi state, where early in the morning members of the Islamic movement matched through the town carrying placards mostly emboldened with 'FREE ZAKZAKY'
In Jos, Plateau state, the protest ended peacefully as youths marched through the streets reminding the public how brutal was the massacre carried out by the military in Zaria, Kaduna state.
Reports from Bauchi, also said there was a large turnout of people demanding the release of Sheikh Zakzaky from incarceration since no charge has been brought against him.
Gombe town was not left out in the protest. Men, women and children staged a peaceful protest also calling on the government to release Sheikh Zakzaky.
Similar protest was held yesterday in Kaduna, Sokoto, Gusau and Birnin Kebbi.
The protest are coming on the heels of the recent disclosure by lawyers of the ISLAMIC MOVEMENT IN NIGERIA, that Sheikh Zakzaky has lost an eye and he is in need of medical attention together with his wife, Sister Zeenat Ibrahim, who is with him in SSS custody.
SIGNED
IBRAHIM MUSA
PRESIDENT MEDIA FORUM OF THE ISLAMIC MOVEMENT IN NIGERIA
2348050786093