ACTOR RANDY QUAID JAILED AFTER COURT NO-SHOW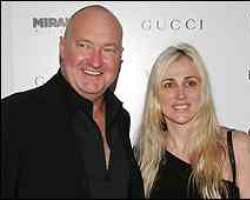 Randy and Evi Quaid are accused of defrauding a hotel
Hollywood actor Randy Quaid and his wife Evi have been briefly jailed and released on bail after showing up for a court hearing two weeks late.
The pair secured bail of $100,000 (£65,000) and were ordered to return to court on Wednesday by police in Santa Barbara, California.
The Quaids have repeatedly missed court hearings over their alleged failure to pay a hotel bill of $10,000 (£6,493).
Quaid has made appearances in films including Brokeback Mountain.
Forfeited
The couple's lawyer said their outstanding hotel bill – which dates back to June 2009 – has now been repaid and they hope to avoid trial.
But Robert Sanger declined to comment on why the Quaids had failed to attend their court hearing earlier this month.
Arrest warrants were issued by the authorities after the pair missed the hearing, while their $40,000 (£25,986) bail was forfeited.
The couple did not attend a hearing the following day either.
The pair's incarceration lasted for less than four hours before they each secured bail and their subsequent release.
The case against them, which has been ongoing since September, claims they used an invalid credit card to defraud a Santa Barbara hotel.
Quaid, the older brother of actor Dennis, has also had roles in National Lampoon's Vacation, Independence Day and The Last Detail.
He won a Golden Globe and was nominated for an Emmy for his portrayal of President Lyndon Johnson in 1980s TV movie LBJ: The Early Years.