Á good leader can make his mark in one year: Pastor Ashimolowo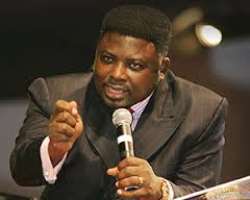 The Senior Pastor of Kingsway International Christian Centre, KICC, Mathew Ashimolowo, has said that a good leader not more than a year to make a difference.
The pastor, who is respected for his deep and thoughtful views, placed Nigeria's perennial crisis of confidence on the door steps of bad leadership.
He said that the consequence of this bad leadership is the fact that people's belief in the country is badly damamged.
For him,  Nigeria is not worth dying for, as a country.
Ashimolowo, who spoke as the guest speaker at the recently concluded Excellence in Leadership Conference organized by Daystar Christian Centre, Oregun, Ikeja, Lagos state, recalled that how his father's death in active service as a Nigerian soldier was treated with so much levity, hence, his reason for his decision.
 According to him,  "My father was killed at the Asaba/Onitsha Bridge during the Nigeria/Biafra civil war in 1967 and the Nigerian military did not have the decency to inform my family.
"His death was treated with levity; even to get his entitlement from the military, my brother had to bribe his way through.
"Is this the kind of country you would want to die for?
 Ashimolowo described Nigeria as a five-talent nation being perpetually led by one-talent leaders.
He regretted the fact that willing Nigerians who have good plans to develop the country were regularly frustrated by some privileged few.
He said, "Nigeria's problem is because culture influences how we choose leaders. Culture puts age before ability to choose leaders". The pastor described this as not only wrong, but also outdated, adding that the weak leadership was the single reason why Africa as a continent seems to be trapped.
"Europe would not survive if it was not for Africa. Most of the things they need to survive are in Africa," he stated.
"A good leader does not need a four year term to make a difference. You can do that in a year," Ashimolowo averred.