Hard Times Under Buhari Not A Surprise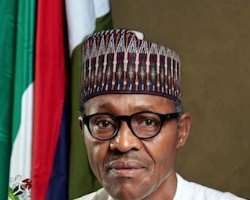 No light, no water, no fuel, no food, no money, no, no is the chorus sang all over the country at present. No doubt that times are really hard, but every man who sees beyond his nose can see a silver lining in the cloudy future.
The hope that keeps a pregnant woman going, is knowing for sure that the pains will be over after a period of time. This hope is what keeps her alive, strong and up and doing. After more than 50 years as an independent nation, three republics past and 16 years wasted in an uninterrupted democracy, Nigerians for the first time elected a leader that didn't emerge by chance- but by a conscious attempt to being the president of the country.
According to history, no Nigerian leader had emerged from a conscious preparation to being a president except President Buhari. Sir Abubakar Tafawa Balewa the first and only prime minister of Nigeria never dreamt or prepared to lead Nigeria when he did, it was a chance provided by the great Sir Ahmadu Bello the Sardauna of Sokoto who had every chance to become the prime minister but rejected, and sent his deputy at party level to fill in that space. Alhaji Shehu Shagari became president after Obasanjo willingly relinquished power to a democratically elected president.
Then, he was vying for a senatorial seat but the calculation changed and he found himself on the presidential seat, the rest is now history. Ernest Shonekan came into power only to fill a vacuum created by the annulment of the June 12, 1992 elections by the them military president Gen. Ibrahim Babangida.
Chief Olusegun Obasanjo's prison to president miracle is a well known story, and how he literarily dragged the unwilling and ill Umaru Musa Yar'dua to presidency is also a well known story. Sooner than we all thought, Goodluck Jonathan became a child of necessity-this necessitated his emergence as president of our country without ever preparing for the challenge of being a president.
Usman Mohammed. Department of Mass Communication,
IBB University, Lapai-Niger State. 07060815443
Disclaimer:

"The views/contents expressed in this article are the sole responsibility of the author(s) and do not necessarily reflect those of The Nigerian Voice. The Nigerian Voice will not be responsible or liable for any inaccurate or incorrect statements contained in this article."