Chichi Of Africa Makes Surprise Appearance at Nomoreloss Service of Songs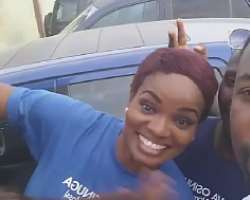 The Nigerian music industry has given birth to many great talents that one can easily recall and one of such great talent is singer, Chibuzo Mercy-Idowu better known as Chichi of Africa.
Chichi hit stardom in the late 1980s as a toddler, and took the country by storm with great music until 2006, when she suddenly disappeared due to failed record label Next Level Record label, which was owned by Femi Aderibigbe, a.k.a Kwame.
According to an interview she granted some years back, she had pointed out that the failed record label made everything she had worked for seems to be a waste and she decided to stay low.
Well, the married singer turned make-up artiste was among some celebs that paid to the service of Songs of late singer Nomoreloss and she explained that she has been around doing things silently and enjoying a quiet life. "Have been around, just enjoying the quiet life."