The "Dirty Look" Worth 1000 Words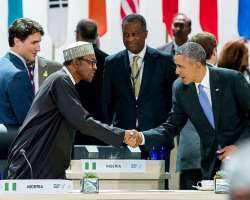 Just last week Nigerian President Muhammad Buhari visited Washington D.C. and held bilateral meetings with United States President Barack Obama. During a brief exchange the two leaders shook hands and exchanged pleasantries, during which everyone on all sides seemed jovial except the lady in pink, United States National Security Adviser Susan Rice.
During the entire meeting Rice gave the dirtiest looks towards the Nigerian leader so many times that she was even caught on camera several times! Her pure and utter hatred for Nigeria and its leadership was on full display for all to see. Why the Nigerian government at the presidential level continues to pretend as if the U.S. is a friend of Nigeria given the overt hostility and visible loathing that their key leaders have for the country is beyond reason.
During Nigeria's fight against Boko Haram, the United States, under the direction of Susan Rice, conducted a failed global effort to deny Nigeria the weapons it needed to defend its territorial sovereignty. When Nigerian leaders sought to procure attack helicopters on the black market through South Africa, the United States tipped off South African intelligence to block the sale.
The tip quite likely originated from the Office of the National Security Adviser, Susan Rice. As the battle raged on, Nigerian leaders scrambled to find weapons suppliers and finally procured advanced weapons and drones that helped turn the tide against the insurgency and wiped out their territorial gains before the election.
After the election, President Buhari reached out to the same United States for "help" and assistance in the continued fight. They continue their policy of refusing to sell Nigeria tactical advanced weapons but instead have indicated that they will send forces to assist Nigeria in the fight. Foolishly, President Buhari has welcomed the foreign invasion of hostile American clandestine spies who now work alongside the Nigerian military.
The U.S., thus far, have done nothing in Nigeria but gather intelligence on Nigeria's weaknesses, and continue to devise a plan to further weaken and undermine the security of Nigeria to make a clandestine strike against the country at the next opportune moment.
Further, the United States, that continues to push for a naira devaluation and a weakening of the Nigerian economy, has done nothing to return looted Nigerian funds that are now housed within the United States. The United States is not an ally or friend of Nigeria. Nigeria's rise is not in their interest, and they continue to push for a diminished presence of Nigeria in Africa and the world in favor of preserving South African dominance.
In fact, former U.S. Attorney General Eric Holder is negotiating with the Nigerian government on behalf of MTN in order to reduce their fine by up to 70%! Boko Haram terrorist continued their operations in Northern Nigeria with the assistance of South Africa's MTN mobile phone network that they repeatedly refused to deactivate the unregistered mobile phone lines.
Given that this serious breach on the part of MTN cost the lives of many Nigerians and gave the insurgency a tactical advantage, it is very suspicious that Obama's Attorney General is now attempting to defend them and get their fine drastically reduced. It is plausible to connect the dots and link MTN with South African maliciousness and with the support of the US in a concerted effort to check Nigeria's rise in Africa.
It is not an accident that MTN of South Africa was the only mobile operator in Nigeria to refuse to obey the repeated directives of Nigerian authorities to shut off the unregistered lines, largely being held by Boko Haram terrorists. It is also not an accident that the former United States Attorney General is wasting his time now to defend them, shunning all the other corporate clients and speaking fees he could be collecting.
Given the overt hostility of the United States under President Obama towards Nigeria, the only major African nation he has repeatedly refused to visit, it makes no sense why President Buhari continues to pursue a close relationship with the U.S. It is unbelievably naive to welcome hostile U.S. spies and clandestine forces to gather intelligence on the Nigerian military which they repeatedly have refused to assist.
Susan Rice, President Obama's national security adviser, abhors Nigeria and Nigeria's growing status in Africa. It is her top priority to undermine Nigeria in Africa and the world, and set in place a policy framework to achieve those ends. It is now time for President Buhari and his so-called advisers to wake up and realize this and move on to establishing real relationships with genuine friends and not thinly veiled adversaries like the United States.
Kuranga and Associates Limited is an investment management advisory firm and an asset manager with a principle practice area of Africa. To learn more about Kuranga and Associates go to www.kaglobal.net . © Copyright 2016 David Kuranga. All rights reserved. This material may not be published, broadcast, rewritten or redistributed.
Disclaimer:

"The views/contents expressed in this article are the sole responsibility of the author(s) and do not necessarily reflect those of The Nigerian Voice. The Nigerian Voice will not be responsible or liable for any inaccurate or incorrect statements contained in this article."
Articles by David O. Kuranga, Ph.D.