POLICE ARREST MAN FOR ISSUING FAKE MOT TO LAGOS CP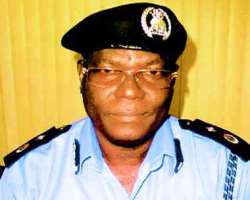 Lagos State Commissioner of Police, Marvel Akpoyibo
The police in Lagos State have arrested a 35-year-old man, Kayode Emmanuel, for allegedly issuing a fake Certificate of Road Worthiness for a car belonging to the state police commissioner, Mr. Marvel Akpoyibo.
The suspect, who was picked up at his residence on Oba Ogo Street, Ijedodo, Ikotun, on the outskirts of Lagos on Saturday morning, was said to have issued the certificate on July 7, 2009 and it was supposed to last for a year.
Trouble, however, started when some officials from the Lagos State Vehicle Inspection Office on routine inspection stopped the car at the weekend and demanded the particulars of the car, a grey Audi 80, with the registration number, GU 303 AAA, from the driver.
It was learnt that the driver, who was a relation of Akpoyibo and the one who procured the document, told the men that the CP was the owner of the car.
Our correspondent gathered that the VI officials insisted on checking the particulars of the car and later discovered that the road worthiness certificate was fake.
The matter got more confusing when the man whose signature was on the certificate appeared on the scene and rejected the signature as his own.
The enraged CP was said to have ordered a manhunt for Emmanuel, who processed the vehicle documents.
A police source at the Ipaja police division said that Emmanuel was cooperating with the police.
'But I think he will need the grace of God to escape going to court because the CP is very embarrassed and angry,' he said.
Police spokesman in the state, Mr. Frank Mba, a superintendent of police, on Monday said he had not been received the information. 'But I will check and get back to you,' he said.