India stunned as beloved actress, 24, dies of suspected suicide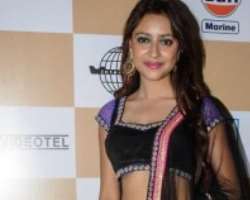 The sudden death of a cherished Bollywood actress, 24, was sending shock waves through India on Saturday.
Pratyusha Banerjee was allegedly found hanging from the ceiling in a room in her house in the Mumbai neighborhood of Kandivali on Friday, according to reports from India news outlets.  Police said no suicide note was found and they registered an "accidental death report," The Indian Express reported.
Banerjee, who was from Jamshedpur, hit stardom in 2010 when she took over the lead role in Balika Vadhu, a popular Indian television drama that premiered in 2008. It has been called the longest-running show in India with more than 2,400 episodes. She later took roles in reality shows such as Bigg Boss – similar to Big Brother in the U.S. – and Jhalak Dikhla Jaa, in which celebrities perform various dances with professional dance partners a la Dancing with the Stars.
She also appeared in Power Couple with boyfriend Rahul Raj Singh, a reality show that features 10 popular celebrity couples who compete with each other over various challenges.The couple was eliminated early on.
"It is unbelievable that she could commit suicide because I know her and she is a strong woman," actress Dolly Bindra told The Indian Express.
Banerjee's death triggered an outpouring of grief on Twitter.
Bollywood producer Tanuj Garg tweeted, "Terrible, terrible news about Pratyusha Banerjee. Met her once at a party. How extreme must pressures be to drive one to take one's own life."
In January, Banerjee was part of a bizarre series of events, when she alleged that eight police officers tried to break into her house, according to the Hindustan Times. Police denied the allegation and said they were there to talk to her boyfriend about a loan issue, the Times reported.
On Saturday, Singh was being questioned by police but was not detained, the Timesreported.
Her boyfriend Rahul Raj Singh gave his first statement to the police in which he explained it was he who discovered her. "We used to stay in a 2 bedroom flat. We had two keys; one key was with Pratyusha and the other was with me," he explained. "When I entered the bedroom, I found Pratyusha hanging from the ceiling. I got very scared. Immediately, I called the neighbours and with their help, I took her to Kokilaben Hospital. We assumed that she was alive, but she was not. I got so scared that I did not inform the police. It was the hospital authorities who informed them. After the doctor's declaration, I called up Pratyusha's family members and few of our close friends," said Singh, as reported by Pinkvilla .
Pratyusha's last rites were performed on 2 April, just a day after she allegedly took her own life. She was dressed in a bridal lengha as her last rites were performed at the Oshiwara crematorium grounds in Mumbai on Saturday evening.
According to sources, Pratyusha had placed an order for a bridal lehenga from designer Rohit Verma. It was thought she was due to marry Singh after the couple had visited her family two months ago where he asked for permission to marry her.
While Bollywood stars expressed their shock at the news of her passing on social media, her funeral was attended by her colleagues from the industry, including Ajaz Khan, Kamya Punjabi, Rakhi Sawant and Ratan Rajput. Punjabi, who appeared with Pratyusha on Bigg Boss 7, earlier claimed that the Balika Vadhu actress had a "troubled relationship" with her boyfriend. She alleged that the actress had sustained injuries to her nose and cheeks.
However, according to The Indian Express , police have almost certainly ruled out foul play. An officer close to the investigation reportedly said that Banerjee's parents had said in their statements that they did not suspect Singh to be responsible for the death. "They did not express any suspicion or claim any foul play. We are treating it as a case of suicide," the officer said.
A panel of doctors from the forensic department, pronounced the preliminary cause as ligature marks on the sides of the neck, that hinted towards asphyxia, police said. A senior police officer added: "Banerjee had been depressed and out of work since March last year. We will be speaking to more of her close friends to try and establish what made her take this drastic step."
The police have also seized two cellphones belonging to Banerjee and Singh from his possession and are attempting to establish who she spoke to last before her death. The final cause of death has been reserved as further analysis is undertaken. USATODAT/AList