EFCC arrests PPMC former boss, Esther Ogbue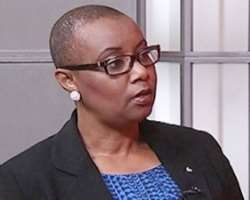 The former Managing Director of the Petroleum Products Pricing and Marketing Company, Mrs Esther Ogbue, was on Thursday picked up by the Economic and Financial Crimes Commission for questioning  over an alleged fraud in the oil sector.
Mrs Ogbue headed the subsisdiary of the Nigerian National Petroleum Corporation  until the recent reforms in the oil industry  is being suspected of enriching her herself  from sales of IPOs to desperate oil cabal.
Sources indicate that she being question on various allegations against her including collecting kick backs through proxies and other underhand dealings during her time at the plum post.
The source said that the anti-grafty agency has been her trail  over the acquisition of choice properties in the nation's capital particularly a house at Maitama valued at N1.2 billion built and furnished within 2months after her resumption of office.
The PPMC has the responsibility of ensuring,  among other things, the availability of petroleum products to sustain our industries, run automobiles and for domestic cooking.