24 die in India bridge collapse, 90 pulled out in all-night rescue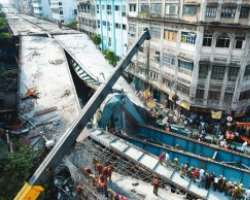 At least 24 people have died in Kolkata and 75 have been injured in the collapse on Thursday of a flyover under construction in a crowded commercial area. Rescuers worked through the night with cranes, saws and jackhammers to look for those trapped in debris.
The state government has ordered a high-level probe into the incident.
Fifteen of the dead were identified while the identification process of the rest were on, police said.
The injured were rushed to hospitals in the vicinity.
Two policemen, injured in the collapse were discharged, while Sandip Haldar, a sergeant of Jorabagan traffic guard, was still reported to be critical.
West Bengal chief minister Mamata Banerjee , camping at the site, said "it is not the time to play politics. Rather we should work for the rescue and relief of the injured."
Banerjee later visited Calcutta Medical College and Hospital and inquired about the condition of the injured.
She said 17 injured were being treated at the hospital while the rest had been discharged. Of the 17, condition of two were critical, while three bodies were still trapped in the debris and would have to be extricated with the help of gas cutters, she said.
The CM, who cut short her election campaign to reach the site, said rescue operations will go on until the roads were cleared.
In a related development, Kolkata Police registered a case against the Hyderabad-based construction firm IVRCL under sections 304, 308 and 407 of the IPC and sealed the local office of company engaged in the flyover's construction.
" It is nothing but God's act ," claimed Panduranga Rao of IVRCL, drawing all-round flak.
Chief secretary Basudeb Banerjee said that a high-level inquiry has been ordered into the flyover collapse.
Meanwhile city police Commissioner Rajeev Kumar handed over a report about the incident to the chief minister.
Five columns of Army personnel (about 300 in number) along with NDRF, state disaster management, city police and fire brigade personnel are involved in the rescue operations.
West Bengal governor KN Tripathi, who visited the spot, sought a report of the incident from the state government.
 Prime Minister Narendra Modi spoke to West Bengal chief minister Mamata Banerjee about the situation arising out of the collapse.
PM Modi, who is away in Washington, expressed grief over the tragedy and assured all possible support to the state government from the Centre, an official release said
Here are 10 developments in the story:
Around 90 people were saved after a 100-metre length of the flyover came crashing down on pedestrians and vehicles on a road in Burrabazaar, one of the city's oldest and busiest areas.
CCTV visuals showed the moment when the bridge suddenly collapsed on moving traffic during lunchtime, crushing pedestrians, cars and other vehicles under huge concrete slabs and metal.
"The rescue operation is in the final stages. Chances of finding survivors are low," said an official for the National Disaster Response Force.
Most suffered multiple fractures and are in a critical condition, Mr Shekhawat said, adding that an unknown number of people still trapped under the wreckage.
Army and disaster response personnel sifted through the rubble overnight armed with concrete and metal cutters, drilling machines and heat sensors to detect life.
But three cranes working overnight managed to clear some of the wreckage and free access to vehicles with people still believed to be trapped inside.
Hyderabad-based IVRCL group, which was contracted to build the flyover, called its collapse an "act of God". Its office has been sealed and a case has been registered against the company.
The 2 km bridge has been under construction since 2009 and has missed several deadlines for completion.
The company was given an 18-month deadline and a budget of nearly

Rs.

165 crore to complete the project in 2009, but after seven years only about 60 percent of the work has been done.
Chief Minister Mamata Banerjee said those responsible for the disaster would not be spared and blamed the previous Left government that had awarded the flyover contract in 2007.   NDTV/Times of India