Saudi man line London streets with super cars with millions of dollars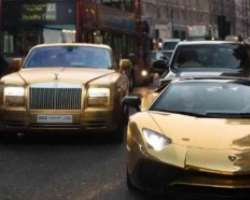 Gold cars have lined the streets of London.
The vehicles, including two Lamborghini supercars and a Rolls-Royce, are believed to be owned by a visiting Saudi man.
The four luxury cars have an estimated total value of more than $2.35 million.
Among them was a monster six-wheel-drive Mercedes valued at STG370,000 ($534,000).
The local council in Kensington and Chelsea has introduced its own fined for motorists revving their engines, racing, and performing stunts after a number of complaints from residents in the wealthy area.
Sky News