APC crisis deepens, party asks minister to resign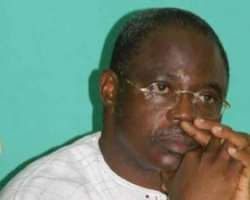 The crisis of confidence in the All Progressives Congress, APC, is far from over as the party has said it was no longer comfortable with the presence of the Minister of State for Agriculture, Senator Heineken Lokpobiri, in the Federal Executive Council, FEC.
The party alleged that Mr. Lokpobiri bought the ministerial slot meant for Bayelsa State from the former governor of the state and APC chieftain, Chief Timipre Sylva.
Chairman of APC in Bayelsa State, Chief Timipa Orunimighe, who stated this at a parley with journalists in Abuja, yesterday, also alleged that Sylva had also compiled and submitted names of some other non-APC members and submitted same to Secretary to Government of Federation, SGF, without input from the state executive of the party.
Addressing newsmen in Abuja at the APC national Secretariat, yesterday, the state chairman, who led other state excos, called on the Minister of State for Agriculture to honourably resign from office.
He said:  'We also want to call on the Minister representing Bayelsa, Minister for Agriculture and Rural Development, the junior minister to resign his appointment.
'Reason being that he also paid for the slot of his ministerial position and I also believe and those of us standing here know very well that he is not a member of the party.
'Why we are standing here before you today is because of the appointments that we feel were supposed to be given to those of us of the APC in Bayelsa. Its a pity to say that for somebody like Timipre Sylva who was supposed to be the leader of the party, today turned against the party and sold our party slots.
The Bayelsa APC leaders, therefore, called on President Muhammadu Buhari and national leaders of the party to intervene in the matter.
Meanwhile, in a swift reaction, Mr. Sylva dismissed allegations that he collected money from the minister to get nomination into the federal cabinet, saying he only did what he felt was right and equitable.
He said:  'They felt that they are the ones that started the party and, therefore, we should not deal with anybody, who is coming late into the party. Vanguard