Arrested girl suicide bomber not a "Chibok Girl": Official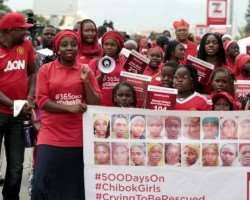 A Nigerian official says a girl suicide bomber arrested in Cameroon is not one of the 276 schoolgirls abducted by Boko Haram from a school in the northeast Nigerian town of Chibok nearly two years ago, but is from a nearby community.
The official says Cameroonian authorities gave them the names of the girl and an older accomplice but are holding them for questioning about how the Islamic extremists operate. The official is in Yaounde, the Cameroonian capital, waiting for the girls to be handed over. He spoke on condition of anonymity because the matter is sensitive.
In Nigeria, Chibok Parents Association chairman Yakubu Nkeki said he is waiting to go to Cameroon to see the child.
The girl, arrested Friday with explosives strapped to her body, appears heavily drugged and suffering injuries, Cameroonian officials said.
She said she was from Chibok and appeared to be about 10 years old. Nkeki's niece was one of the youngest students abducted from a government boarding school in Chibok. She was 14 at the time of the mass kidnapping in the early hours of April 15, 2014. Dozens of the girls escaped on their own but 219 remain missing.
Boko Haram continues to kidnap even as Nigerian troops have rescued thousands from captivity in recent months. None has been from the Chibok school.
Special: Diabetes Breakthrough Gives New Hope To Suffering Patients
The failure of Nigerian officials and the military to rescue the girls promptly brought international condemnation and helped President Goodluck Jonathan lose elections last year.
The Chibok kidnapping propelled Boko Haram into notoriety.
Read more: Official: Arrested Girl Suicide Bomber Not a "Chibok Girl"
AP