Jonathan did not call me till 19 days after Chibok girls were abducted: Gov Shettima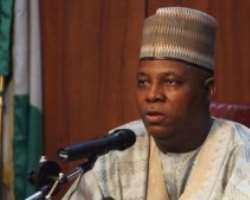 The Governor of Borno State, Alhaji Kashim Shettima, has highlighted the delay that complicated the rescue of the abducted Chibok girls, who were taken away from the school in April 2014. Shettima  said former President Goodluck Jonathan only called him 19 days after the abduction of the Chibok schoolgirls.
The governor  spoke on Monday,when  former President Olusegun Obasanjo, who visited him at the Government House,  Maiduguri.
He said there was no communication from the Presidency several days after about 300 schoolgirls were abducted from the boarding secondary school in his state.
Shettima said he was sure if it was Obasanjo who was in power, the situation would have been different.
He said, "Your Excellency, Sir, I was privileged to have worked closely with Chief Innocent Audu Ogbeh as Honourary Adviser to me on Agriculture.
"He selflessly assisted us in finetuning our Agricultural programmes from 2012 to 2015, which made him to frequent Maiduguri at the heat of the Boko Haram insurgency.
"I remember that in one of his visits, we had one conversation in 2014 after the Chibok schoolgirls abduction.
"I was actually lamenting to him on governance at the federal level with relations to poor handling of the Boko Haram insurgency.
"As I was lamenting to him, Chief Ogbeh said something to me and I quote: 'Look, I might have had some political difference with President Olusegun Obasanjo, but to say it as it is, if Obasanjo had been president while this insurgency is happening in Borno and other parts of the North East, you would have witnessed what responsive leadership entails.'
"Chief Audu Ogbeh went further to say that from his point of view, His Excellency, Chief Olusegun Obasanjo was one of Nigeria's most hard working presidents.
"He described President Obasanjo as a highly energized workaholic.
"Chief Ogbeh made these remarks as a leader in the defunct Action Congress of Nigeria at a time Baba Obasanjo was a PDP leader.
"Besides Ogbeh, I had a conversation with a former Governor who told me that while he was a sitting Governor during Baba Obasanjo's regime as president, there was a time Baba called him countless number of times in one day to get update over a crisis that erupted in the Governor's State.
"Someone even told me that as president, Baba Obasanjo had phone numbers of traditional rulers and resident heads of security establishments in States that were prone to crisis and he sometimes spoke with them directly to get first hand information.
"Without crisis, he created time to call traditional rulers to make enquiries about communal stability, ethno-religious coexistence and community policing in order to forestall problems.
"In our own case, Your Excellency, after the Chibok abduction of over 200 schoolgirls in April, 2014, it took 19 days for me to receive a call from the Presidency.
"I brought this mainly to show the difference, because we will only appreciate scenarios when we make comparisons."