NCC boss, Danbatta to address NIPSS on March 31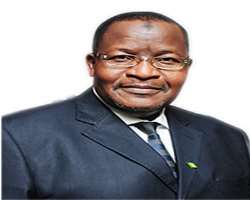 The Executive Vice Chairman of the Nigerian Communications Commission (NCC), Prof. Umar Garba Danbatta, will address participants of 38th Senior Executive Course (SEC) of the National Institute for Policy and Strategic Studies (NIPS), on Thursday, March 31.
Danbatta, a professor of telecommunications engineering, will make a presentation on 'Mainstreaming Information Communications Technology (ICT) for Poverty Reduction in Nigeria' in an interactive session with participants of the course.
The NCC boss, who has been globally acclaimed for asserting the regulatory function of the commission, is expected to share his wealth of experience and tremendous intellect with the participants.
Participants of the course are top officials drawn from both the private and public sector, including military, para-military and civilian personnel.
Prof. Danbatta, who recently unveiled an 8-Point-Agenda, aimed at taking the telecommunications sector to the next level, has supervised more than 60 PhD, MEng and BEng projects in the diverse areas of telecommunications and has also served as external examiner to seven universities and polytechnics.
He's currently the Chairman of Common Wealth Telecommunications Organization (WTO).