ISIS marked Good Friday with crucifixion of a priest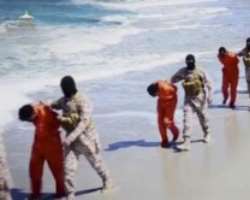 Islamic State militants lead what are said to be Ethiopian Christians along a beach in Wilayat Barqa, in this still image from an undated video made available on a social media website on April 19, 2015. The group have persecuted Christians across the Middle East. SOCIAL MEDIA WEBSITE VIA REUTERS TV/REUTERS
The militant group Islamic State (ISIS) continued its persecution of Christian groups by allegedly crucifying a Catholic priest on Good Friday, the Washington Times reports.
The victim was reportedly the Rev. Thomas Uzhunnalil, a Salesian priest, who was kidnapped in Yemen earlier this month during a raid on a Catholic nursing home run by Mother Teresa's organization Missionaries of Charity.
Uzhunnalil, a native of India, was captured on March 4, in a raid which also killed 16 Christian nuns and nurses. His alleged death by the same method the Romans used to kill Jesus—an event marked by Christians around the world on Good Friday—was reportedly confirmed at the Easter Vigil Mass by Cardinal Christoph Schonborn of Vienna, although the Cardinal's claim has yet to be independently verified. The Indian government had received no further information regarding the priest's fate on Monday evening.
Less than 30 years ago, Iraq's official census counted 1.4 million Christians residing in the country; however, since then figures have decreased radically, Al Jazeera reports.These reports comes as ISIS's crackdown on groups not affiliated with its radical brand of Salafism has helped fuel a huge drop in Iraq's Christian population.
The Iraqi civil war, between 2005 and 2007, forced thousands of Iraqi Christians to flee to nearby Syria, while others settled in Lebanon and Jordan. After the start of Syria's Civil War in 2011, some Christian refugees returned to Iraq, however as ISIS spread across Syria and Iraq, figures have fallen once again.
According to the Hammurabi Human Rights Organization, an Iraqi research think tank, said the number of Christians in Iraq had dropped to fewer than 400,000 as of 2015.
Earlier this month U.S. Secretary of State John Kerry accused ISIS of committing genocide against Iraq's Yazidi minority, Shia Muslims and Christians . The Iraqi and Syrian forces have made gains against militants in recent months, with Iraqi tribal fighters reporting last week that they have pushed ISIS from a crucial border point between the two countries .