The 16 Women And Children Snatched By Boko Haram Are Still Not Rescued—Adamawa Lawmaker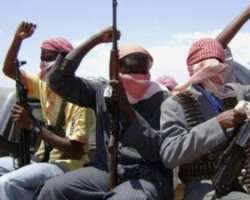 Contrary to the claims by Nigerian Soldiers to have rescued the 16 Women and children abducted by Boko Haram last week, a lawmaker representing Madagali constituency in the Adamawa state House of Assembly (ADHA),Hon Emmanuel Tsandu has refuted the resent reports by the Nigerian army saying that the abductees are still under the custody of the insurgents.
Tsandu said that the initial source of the reports claiming the Military have freed the women are baseless and contrary to what is been widely reported in many quarters, as Boko Haram are the custodian of the women.
"According to other resources that the 14 women and 2 children were rescued is not true, honestly this Women are still under the custody of Boko Haram,I m maintaining a constant link with my people all the villages heads, the vigilante groups leaders who have being supporting the Armies to fight the insurgents reliably confirmed to me this women are not where to be found". He said
He call on the Military to do a serious and thouthrough work in moping up the Madagali as indicators are showing that Boko Haram because of the terrain nature of the area are still hiding in the caves in the mountains and launching some intermittently attacks to some of our villages.
The anticipation of about 56,000 displaced Nigerian returnees from Cameroun is rising a lot of questions on the authenticity of either they are true Nigerians and free from any suspicious of belonging to the Boko Haram group.
Tsandu is of the opinion that Government should close all camps, letting every one to go to his or her own community that way all the security agencies will concentrate well on protecting lives and property and it will give room for the IDPs to farm well to sustain themselves.
This is coming when the Chief of Air staff,AVM Sadique Abubakar yesterday (Sunday) told the people of Adamawa state that Boko Haram has come to an end,his coming is to mop up all places initially attacked by the insurgents as the security is in the final stage of cleaning up the ravaged areas.