President Buhari dissociates self from #Istandwithbuhari campaigners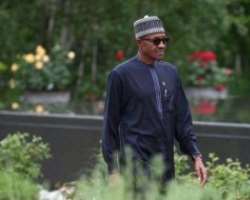 President Muhammadu Buhari has   dissociated self from an advocacy group, #Istandwithbuhari, saying it is not in his character to elicit support of praise singers with questionable motives.
In a statement by his Senior Special Assistant on Media and Publicity, Garba Shehu, Buhari demanded that the group should immediately stop claiming any alliance with his administration.
In addition, the president  also demanded that those behind the group should stop using his name and that of his wife, Aisha, to promote themselves and their activities.
According to the statement, "Among other reasons, we have found it necessary to distance the Presidency from the #Istandwithbuhari group because its premature and ostentatious celebration of the present administration's achievements is totally inconsistent with President Buhari's philosophy of service with humility.
"While the present  administration has indeed recorded significant successes in its priority areas of improving security across the nation, ending the Boko Haram insurgency, curbing official corruption and revamping Nigeria's economy, President Buhari is well aware that his government still has a lot of national challenges to overcome.
"The President prefers to give his fullest attention to addressing those challenges without the unsolicited and unwelcome distraction of untimely praise-singing from groups with dubious and questionable motives."