Alleged assets falsification: CCT okays Saraki for trial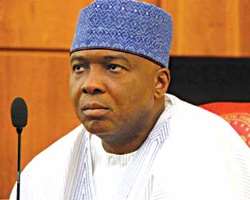 The Code of Conduct Tribunal (CCT) on Thursday ruled that it has jurisdiction to hear an alleged case of false declaration of assets preferred against Senate President Bukola Saraki.
The senate president was alleged to have filed false assets while he was the governor of his home state of Kwara.
Saraki's lead counsel, Kanu Agabi (SAN) had filed a fresh application challenging the jurisdiction of the Tribunal over the case.
The motion, dated March 4, was in pursuant to Section 36 (6) (a)(b), 36 (12) and paragraph 15 of the First Schedule of 1999 Constitution: Section 3 and paragraph 1 of the third schedule of the Code of Conduct Bureau and Tribunal Act.
The grounds for the fresh application include that the tribunal has no jurisdiction to entertain the charge; that a condition precedent to the exercise of jurisdiction has not been fulfilled and that the charge was brought in bad faith.
In his ruling, the Chairman of the Tribunal, Danladi Umar, said that there was no breach of the law as the Code of Conduct Bureau and Tribunal Act of 1989 allows the Senate President to prove his innocence of the alleged crime at the tribunal.
Umar said Section 3 (e) of the 3rd schedule of the 1999 Constitution empowers the Code of Conduct of Bureau the right to receive complaints of such nature and where necessary refer such matter to the tribunal.
He further stated that the Federal Government can choose to try anyone for a crime committed regardless of the time such crime was committed, and that the Constitution empowers the Attorney-General of the Federation to file criminal charges. - Guardian.