The Bridge Concept Formally Launches Discount Card for Students, Youth Corps Members; Targets 23 Million Subscribers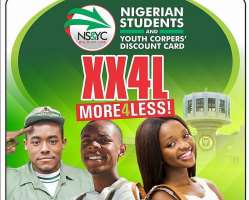 An automated discount card with the capacity to subsidise expenses of serving members of the National Youth Service Corps (NYSC) and students in Nigerian tertiary institutions, known as Nigerian Student and Youth Corper Discount Card (NSYCDC), has been formally launched in Abuja by the Speaker of Federal House of Representatives, Rt. Hon. Yakubu Dogara.
The Speaker, who was represented by the Chief Whip, Alhaji Alhassan Ado Doguwa, disclosed that NSYCDC is targeting about 23 million Nigerian youths.
He said the discount card, an initiative of The Bridge Concept, would go a long way in curbing the challenges faced by students and youth corps members, due to the prevailing economic hardship in the country.
"This initiative is about to give adequate attention to what we have been talking about; that is the welfare of students and corps members without taking action. If we keep talking about it without taking action, then it is mere lip service," he said.
Also speaking, the initiator of the concept, and chairman, The Bridge Concept Nigeria Ltd., Hon. Bimbo Daramola, said the Concept had already received endorsement of the Committee of Vice Chancellors and the National Association of Nigerian Students (NANS).
"The effect of our current economic realities on our youths is harsh, so it is our responsibility to look for safety nets to shield them from crimes and criminality. While doing that we should not lose focus on how to empower the students and youth corps members to keep from deviant behaviours. That was what brought the idea of this online discount platform." he said.
"That was what brought the idea of the online discount platform. We already have partners from all sectors of the economy, from hospitality to tourism and others, whereby any of our subscribers will enjoy a discount from the goods and services he or she is seeking to enjoy. What makes this concept to be unique ultimately is that it cannot be abused or exposed to fraud" Daramola added.
Presently over 35,000 partners including students and corpers are already benefitting from the service in the Federal Capital Territory alone, with plans to extend to other parts of the country immediately after this launch.
"Though it is new and first of its kind in Nigeria but it has been in existence in Europe and Americas for more than 3 decades. These are some of the privileges enjoyed by students and other youth groups in Europe and Americas that makes it appear like their society is extra perfect," he explained.