APC caucus says no vacancy for presidentials bidders in 2019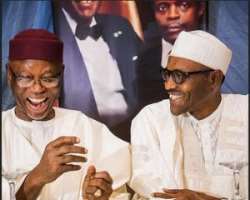 The All Progressives Congress on Tuesday night foreclosed any prospects of throwing the field open for those who nurture the ambition of succeeding President Muhammadu Buhari in 2019.
They  made it clear that there would be no vacancy for such an ambition in the next round of presidential election in 2019, as the incumbent president would be supported for a second term bid.
Members of the National Caucus of the party in an apparent reaction to speculations about persons already positioning for a bid for the post under the party, said that Buhari  would be yielded the platform of the party   to seek a second term.
The national caucus comprises serving and former governors, the National Assembly leadership, and selected members of the national executive of the party.
The caucus, Vanguard reports, believes that  the endorsement of President Buhari for a second term would help to stabilise the polity in the face of what members described as the 16-year rot inherited from Peoples Democratic Party.
It also constituted a committee to resolve all pending issues in the party, especially the issue of Buhari's second term.
According to reports,  the party caucus blamed the  positioning by different party leaders on 2019  for the problems that led to the crisis in the National Assembly and also the inability of the party to inaugurate its Board of Trustees till date.
It was also learnt that leading senators in the party on Tuesday night met in Abuja where they also pledged to unify themselves in the face of the prospect of losing their influence to the more united PDP caucus.