National Assembly passes record-spending budget of N6.06 trillion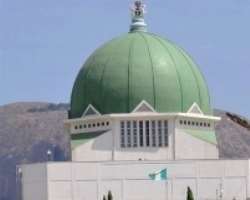 The National Assembly on Thursday  approved  2016  budget, which sets new spending records  and gave few clues about how the government  can find the money with energy prices still struggling to recover.
President Muhammadu Buhari, elected a year ago to fix an oil-producing economy mired in corruption and mismanagement, presented a record $30 billion(N6.0trillion) budget in December to invest in roads, power supply and diversify away from oil.
He had to withdraw it a month later after a further drop in oil prices.
The new budget is based on an oil price of $38 a barrel and crude production of 2.2 million barrels a day, in line with current output.
It aims to recharge the economy by trebling capital spending compared with 2015's plan. A deepening crisis slowed gross domestic product growth to 2.8 percent in 2015, its weakest in decades.
"Although Nigeria has a low debt-to-GDP ratio… the authorities will be under pressure to demonstrate rapid progress in raising revenue," said Razia Khan, chief economist, Africa at Standard Chartered bank.
"Given the weak economic outlook, this will not be easy," she said, adding that debt service was making up 24 percent of the budget, compared with an estimated 22.4 percent in December.
The central bank raised its benchmark interest rate to 12 percent from 11 percent on Tuesday in a surprise move, just four months after a rate cut, seeking to curb inflation which hit a three-year high of 11.4 percent in February.
In the amended budget passed by a joint session of the lower and upper houses of parliament, the deficit has risen to 3 trillion naira ($15 billion) from 2.2 trillion.
The overall budget is 6.06 trillion naira, down from the 6.08 trillion naira in the spending plan outlined in December.
Oil revenues, which make up about 70 percent of Nigeria's income, have slumped, whacking the currency, halting development projects and leaving budget funding uncertain.
In January, Finance Minister Kemi Adeosun Nigeria said Nigeria planned to borrow up to $5 billion (about a trillion naira) from multiple sources, including the Eurobond market, but officials have not provided an update since then.
Nigeria has in recent months held exploratory talks with the World Bank and tried to secure funding from the African Development Bank and China's export bank, but no deal has publicly emerged.
On Wednesday, Adeosun said the government planned capital expenditures worth $1.7 billion alone in the next quarter under plans to revive growth.
in the budget as passed on Thursday,  the National Assembly slashed the expenditure size  to N6.06 trillion from  N6.07 trillion proposed by the president.
The 2016 budget had been trailed by allegations of  padding which delayed its passage. The highlight is as follows: N351bn for statutory transfers, N1.4trn for debt service, N2.6trn for recurrent expenditure, and N1.5trn as capital expenditure.
The N17 billion reduction in the aggregate expenditure of the budget was taken from overhead votes component of the N2.65 trillion recurrent expenditure of the budget which has now been reduced to N2.646 trillion. N2.2trillion fiscal deficit was retained. Also retained, were the parameters of $38 per barrel oil price bench mark for the budget, 2.2million barrels of oil production per day, exchange rate of N197 to a US dollar and deficit GDP of 2.14 per cent.
Meanwhile, the Presidency said that the Executive was adequately involved in the resolution of controversy that arose from the budget before it was actually passed, just as it hailed the National Assembly for the passage. In the approved budget, the National Assembly ensured  that only the N500billion Intervention fund was allowed to scale through untouched as other components in the budget were cut because it bordered on giving relief to the poor.