Tonto Dikeh Reveals that Olusegun Obasanjo is her Father-in-law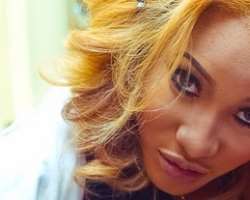 Nollywood actress, Tonto Dikeh has made a lot of revelations in her latest interview and she has made it known that the former president, Olusegun Obasanjo is our father-in-law. Not only did she say this, she went as far as telling us what we don't know about the retired General. The actress who is married to Oladunni Churchill and welcomed her first child on February 17, 2016 recently visited the 'Love lock bridge' in Paris, France.
The Love lock bridge in Paris is famously renowned as a place where lovers write their names on a padlock and lock to a bridge to symbolize their love and Tonto and her hubby did that.
Tonto said, 'Obasanjo is my husband's father'. When she was asked if she had met with Obasanjo, she said 'Yes I have. We have pictures together. He is a very wonderful man, I didn't know him before, but when I finally got to meet him, I found out that he's totally different from what everybody thought he was'. Amazingly, she revealed that 'He's very spiritual, he's into God, he's very educative, he's very disciplined, he's just the opposite of what I hear'.