DSS frees Ekit lawmaker after 18 days in custody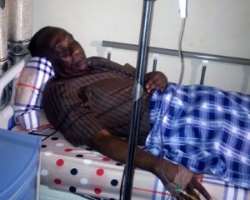 Member of  Ekiti State House of Assembly Mr. Akanni Afolabi has been released by the Department of State Service after 18 days  in custody.
The DSS operatives had stormed the premises of the State House of Assembly in Ado-Ekiti on March 4 and picked up Akani alongside three others.
The security agency later released three others and held on to Akanni.
The lawmaker was the subject of a death scare in the custody of the Department of State Services, DSS last week.
akanni was  immediately on release admitted in a private hospital in Abuja for treatment.
The lawmaker was reportedly very weak and could barely speak.
"I am not well. I am sick. I am sick,"  he was said repeatedly to journalists who visited him at the hospital, where he was sighted receiving intravenous fluid.
. He, however, disclosed that he was treated for malaria at the DSS detention facility after he collapsed two times. He said his release may not be unconnected with his deteriorating health situation, adding that he was not told by the DSS operatives why he was he held.
The Chairman of the Ekiti Assembly Committee on Information, Hon Gboyega Aribisogan, in reaction expressed happiness over the release of their colleague.
He said,  ''His incarceration really bothered us. ''I can confirm that every other person detained with him has also been released. ''Immediately he was released, Governor Ayodele Fayose ordered that he be taken into a hospital, which is where he is now.''
– with online reports