Again, FG bans rice importation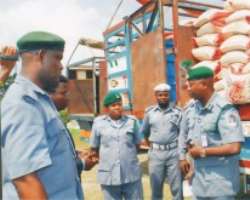 'The Federal Government has re-imposed import restrictions on rice through land borders across the country.
The government in  an earlier policy in October 2015  allowed rice imports through the land borders, once appropriate duty and charges were paid.
The volte-face was announced at a review session held with Comptrollers of Border Commands and Federal Operation Units in Abuja, Tuesday.
A statement  by Wale Adeniyi, Custom's Public Relations Officer, said the Comptroller-General of Customs, Col. Hameed Ali (retd), gave the approval for the reversal of the service after observing that  dwindling revenue from rice imports through the land borders did not match the volume of rice landed in ports of neighbouring countries.
According to the statement,  "Rather, reports from border commands indicated an upsurge in the tempo of rice smuggling. Implementation of the restriction order got off to a smooth start, with a high level of compliance in October 2015.
"However, revenue started dwindling from January 2016, with importers blaming access to forex as major impediments. "During the five-month period when the importation was allowed, October 2015 to March 17, 2016, a total of 24.992 metric tons of rice valued at N2,335,131,093  were imported through the land borders. During the period, total revenue generated amounted to N1,685,112,810, which is considerably lower than the revenue projected to be generated with the removal of import restrictions.
"However, an upsurge in the number of the seizures has been reported across the land borders since January 2016. In the first two months of the 2016, a total of 9,238 bags were seized, with Duty Paid Value of   N64,666,000 made by the Customs anti-smuggling patrol teams of   Federal operations and border commands. The Comptroller-General of Customs noted that his officers and men could not be totally exonerated from the abuse associated with the implementation of the order on rice, saying his office had been inundated with reports of collusion between them and rice importers.