REASONS WHY GOV. OKOROCHA SACKED HIS FORMER SSG, SIR JUDE EJIOGU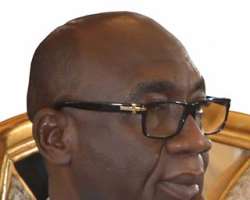 Facts are beginning to emerge on the reasons why the former Imo State Secretary to the State Government, Sir Jude Ejiogu was unceremoniously relieved of his duties.
Unconfirmed reports states that the erstwhile SSG may have been booted out of office as a result of alleged embezzlement of about one billion naira local government pension funds while he was serving as the Chairman of Imo State Local Government Commission. According to insiders at the Douglas House Owerri, Governor Rochas Okorocha had earlier cautioned him on tampering with public funds. Based on his pledge to the governor to be of good conduct in his future undertakings, he was first elevated to the post of the Chief of Staff to the Governor before his appointment as the SSG. Instead of him to heed to his boss's advice, he devised and perfected another strategy, using caretaker market leaders to rake fortune to himself instead of channeling the funds to the coffers of the state government. The need to utilize every fund generated internally (IGR) has become very critical to the functioning of state governments because of the prevailing economic realities in Nigeria.
Some observers think this may have propelled the governor to grant him a soft landing through sack instead of criminal prosecution that would have ended his political career.
A commentator on Imo State affairs has this to say about the sacked SSG "....Jude Ejiogu is enmeshed in an orgy of corruption and mass looting of public money and natural resources......Rochas is too humane to have tolerated him this far."
We hope that the disengaged SSG will tell his own side of the story soon