VOLCANIC ASH: BA DEFENDS POLICY ON STRANDED PASSENGERS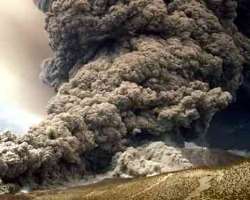 British Airways has rejected suggestions it is prioritising new passengers over those stranded abroad.
According to British Broadcasting Corporation, tens of thousands of people are hoping to return home after the airline disruption caused by volcanic ash.
Some passengers have complained that BA appears to be selling empty seats to new passengers on earlier flights.
But BA said these were being offered at very high prices to keep them empty on its computer booking system, so stranded passengers can be slotted in.
'There are some seats available but at a much higher price. This is done on purpose, not to cash in,' the spokesman said.
Meanwhile the airline is flying out some empty planes to certain destinations to bring back stranded customers.
'It remains an enormous challenge,' said a BA spokesman of the task of flying home thousands of people whose flights were cancelled because of the recent cloud of volcano ash over Europe.
He said thousands of its flights had been cancelled between Thursday last week and Wednesday this week.
Extra BA planes were despatched, on Thursday and Friday, to Hong Kong, Bangkok, Dubai, the Caribbean, and Sharm el-Sheikh.
Over the weekend the airline hopes to send out more extra planes to repatriate customers from New York, Newark, the Maldives, Mumbai, Bangkok and Hong Kong.
Most of these will fly out with freight, or completely empty, and will be for the use of stranded customers only.
However, the number of extra flights is limited by the availability of empty planes, pilots and cabin crews.
In general, stranded customers of BA are being offered guaranteed seats for their replacement flights, which can be a week or so in the future.
To get them back earlier, BA says it has to keep its computerised live seating system open, and this entails keeping some seats empty by overpricing them.
The computer system will not allow BA to pretend there are no potential bookings – hence the empty seats must remain available for sale.
This is the 'most efficient way of handling the situation', said the spokesman.
However, if a new passenger does want to pay the much higher price for a ticket they will get it.
Ultimately the high price is proving to be a deterrent, keeping seats unsold, the airline said, so allowing it to allocate them at the last minute.
However, BA is urging customers to keep in close contact with it to be given free seats.
The airline says its much more difficult for BA to pro-actively keep in touch with stranded passengers than vice versa.
While they wait, stranded passengers flying into the EU should be being offered accommodation and food by their airline.
Meanwhile, Thomson Airways has apologised for the 'confusion' caused by its reimbursement policy. It said it would now allow passengers a full refund of flights that were cancelled or allow them to be rebooked on flights to the same destination with no additional charge before May 21.