AC PETITIONS ALAO-AKALA OVER LOOMING UPHEAVAL IN LG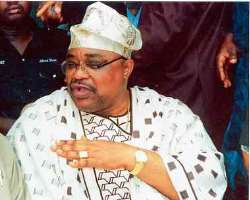 Adebayo Alao-Akala
Oyo State chapter of the Action Congress has warmed of a looming breakdown of law and order in Ibarapa Central Local Government Area following the council authority's alleged disobedience to a court order in respect of an AC candidate.
The warning was contained in an April 23 open letter to Governor Adebayo Alao-Akala by the state Secretary of the party, Mr. Dele Akinleye, over an appeal won by the party's councillorship candidate for Ward 6.
The party said that the AC flagbearer in the December 15, 2007 councillorship election, Mr. Azeez Katheer, defeated the Peoples Democratic Party's candidate, Mr. Olugbile Oludotun, at the LG Election Appeal Tribunal.
Since April 1, 2010 when the tribunal affirmed the judgment of the lower tribunal, the AC said that the Ibarapa council chairman had refused to inaugurate the party's candidate.
The administration of ex-Governor Rashidi Ladoja had also refused to inaugurate the winner of Ibarapa East LG chairmanship election of March 2004 contrary to the July 12, 2005 judgment of the LG appeal tribunal.
The said winner, Dr. Joshua Akintaro, had contested the election on the platform of AC while Ladoja and the chairman, whose election was nullified, were members of the PDP.
The incident was part of the 'gross misconduct' levelled against the former governor by a group of 18 lawmakers in the state House of Assembly, culminating in his infamous January 12, 2006 removal from office.