Ambode's Unworkable Directive On Lekki Gardens Residents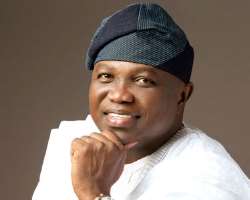 The unfortunate incident of building collapse in the Lekki area of Lagos about two weeks has understandably elicited reactions that have bordered mostly on outrage, chiefly because of the high number of casualties recorded. It is, perhaps, within this context that one can situate Governor Akinwunmi Ambode's obviously impulsive directive for immediate evacuation of occupants in the buildings in Lekki Gardens estates wherever they are in the state, to enable relevant agencies to carry out integrity tests on the buildings.
The governor said for the period the exercise will last, the management of Lekki Gardens will be responsible for the accommodation of all those to be temporarily evacuated from their residences. He said, and quite rightly so, that the government would not wait for another tragedy to occur before discharging its responsibility to protect citizens in the state.
As governor and chief security officer, it is Ambode's responsibility to ensure the welfare, security and safety of all residents in the state. Any action he deems fit and necessary to avoid a repeat of the tragedy that snuffed life out of 35 people in one fell swoop, or even one person's life, is welcome. However, the directive for evacuation of residents in all Lekki Garden estates because of an incident in one building that was under construction is as unwelcome as it is impracticable.
Since the collapsed building was not the only structure being built in the state at the time of the accident, the governor would have been in order if he directed integrity tests to be carried out on other buildings around the collapsed structure, including those whose construction have reached roofing stage. But he wants occupants of Lekki Gardens estate anywhere in the state, including those that have lived in those houses for the past four years, to move out of those properties for integrity tests. Surely, this is one pronouncement that was not clearly thought out before being made.
It is obvious the governor was not properly briefed on the operations of Lekki Gardens and the nature of its business before making the highly controversial pronouncement. For, if he was, he would have been told that residents in Lekki Garden estates actually own the buildings in which they live. They are not rent-paying tenants who could be asked to vacate the properties by executive fiat. The business of Lekki Gardens is focused primarily on building and selling out residentaial properties to buyers.
The implication of Amobde's order is that people would move out of their own properties in which they have lived for periods ranging from one to four years for integrity tests, while the management of Lekki Gardens provides them accommodation for the period of the exercise. This is clearly a matter between the Lagos state government and the owners of those buildings, and not Lekki Gardens. This is one directive the government cannot expect easy implementation.The government must be prepared for stiff resistance from property owners, which may include law suits, beyond physical resistance. Lekki Gardens does not have a hand in this.
Let us even suppose that it was possible for occupants of Lekki Gardens estates to vacate their properties for integrity tests, are they expected to be moved into a camp for displaced persons, to be built by the company, complete with facilities that would make life as comfortable as in the houses they have been living in? Or does Governor Amobde expect Lekki Gardens to herd hundreds of families into hotels and keep them there at its own cost for the duration of the integrity test? There is no doubt that the building collapse has impacted negatively on the business of Lekki Gardens, and will continue to do so for some time to come. How, in he name of anything that is reasonable, is the company is expected to finance the accommodation and welfare of hundreds of families for the duration of the integrity test?
The incidence of March 8 was a calamity of no mean proportion, one that deserves condemnation since it could have been avoided. But it is hardly a matter for grandstanding. The governor need not kill a fly with a sledgehammer to be seen to have reacted appropriately to an accident that claimed lives in his state.
Governor Ambode is under pressure to match the performance of his predecessor, if it is recalled that he came under severe criticisms for percieved inaction in the first few months of his tenure. Incidentally, he appears to have found his bearing in the past four months or so, as far as performace is concerned. That is why he did not have to resort to an overkill to be seen to be a performing governor.
This directive is what legislators describe as a bill that is dead on arrival. Its workability is seriously doubtful. This is certainly not the time the Lagos state government can afford to start a crisis it cannot manage. Pray, where are the logistics to manage evacuation and temporary settlement of many families from homes they have been used to for years; homes that they own?
The governor's first official reaction to the tragedy, which came in form of sack of four officials of the Lagos State Building Council Agency for alleged negligence, was a step in the right direction. This should be followed by further investigation into the activities of other regulatory agencies that are involved in building supervision. For instance, there is need to investigate the relevant agencies that approved the materials that were used in the collapsed building. Was there a deliberate departure from the norm? Did somebody chose to look the other way thereby allowing sub-standard materials to be used for the ill-fated building?
There is a possibility the factors that caused the collapse of the building in question may be isolated, considering that Lekki Gardnes is not a new player in the real estate sector. If there hasn't been any record of an incidence of any type in all the estates it has been involved in, there is reason to believe that there may be more to the tragedy in question than meets the eye.
Disclaimer:

"The views/contents expressed in this article are the sole responsibility of

Henry Nkume

and do not necessarily reflect those of The Nigerian Voice. The Nigerian Voice will not be responsible or liable for any inaccurate or incorrect statements contained in this article."