Computer Science Student of Akwa Ibom State Polytechnic Sets Up ICT Forum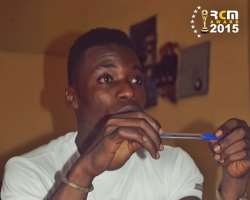 In line with the Dakkada philosophy of the Akwa Ibom State Governor Mr. Udom Emmanuel; a Computer Science student of the Akwa Ibom State Polytechnic Ikot Osurua, Mfonobong Robson has set up an ICT Forum "Nacoss ICT Forum".
Source gathered that Mfonobong Robson contested as Director of Socials and Welfare for Nigerian Association of Computer Science Students (Nacoss), Ikot Osurua Chapter last year and was later appointed as the head of Media and Publicity.
The forum according to him is set up with the motive to encourage fellow Computer Science Students academically in bringing to their notice emerging technologies and gadgets in the ICT Industry.
The forum is also aimed at helping students to know their field of interest in Computer Science as well as promoting and improving their knowledge of computer science/ICT thus helping them to succeed in their fields when they get to the labour market.
The forum before now has embarked on free Tutorials in the following areas: Media & ICT, Computer Networking, Computer Programming in VB and Java, System Maintenance, Web Development, Graphics Design and V-Sat Installation.
Mfonobong Robson has been working round the clock to give out to the Association and the Polytechnic at large and as a result of that, he is of the motive that to whom much is given, much is also expected.
"Being in school as a student is not just about studying and getting the certificate, but also to leave a lasting legacy that you will be remembered for even when you are done with your studies. Before being admitted to the Polytechnic, I've always been thinking of what I'll do for my fellow students to benefit from and I thank God I've succeeded in making my dream come true by setting up this forum which I strongly believe my Head of Department; Mr. Ubon Obonguko will be proud of".He added.
This is the first time in history a student of the Polytechnic is embarking on a project that will be beneficial to other students and the polytechnic at large and we belive the sky will be his tarting point.
The Forum has Emaediong Obot as Vice Chairman and Usenobong Obot as the Secretary.
Great Nacossites, Networking the World!