Explosions rock Brussels airport, metro system, kill 13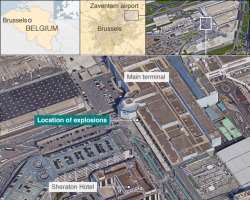 Several explosions have struck Brussels airport and the metro system, causing at least 13 deaths, Belgian media say.
Two blasts tore through the departures area of Zaventem airport shortly after 08:00 local time.
An hour later, an explosion hit Maalbeek metro station, close to the EU institutions. The airport and whole metro system have been closed.
The attacks come four days after Salah Abdeslam, the main suspect in the Paris attacks, was captured in Brussels.
The Belgian government has confirmed casualties at the airport but has given no numbers. The cause of the explosions is unknown.
Belgium has now raised its terror threat to its highest level.
Belgian broadcaster VRT said that in addition to the dead at the airport, at least 35 people were severely injured.
Emergency services are clearing the airport completely. Belgium's Het Laatste Nieuws reports that more bombs were found.
The Belga news agency reports that shots were fired and shouts in Arabic were heard before the two explosions.
Other reports say at least one of the explosions was close to the American Airlines check-in area but this has not been confirmed.
The Belgian broadcaster RTBF quoted a witness as saying there were people injured or unconscious in the departure area, opposite the Sheraton hotel.
It occurred shortly after 08:00 GMT during the rush hour at Maalbeek station, with TV images showing smoke billowing from the entrance.
The European Commission, the EU's executive arm, has told employees to stay indoors or at home. All meetings at EU institutions have been cancelled.
Belgium's Interior Minister Jan Jambon had said on Monday that the country was on the highest level of alert for possible revenge attacks after the capture of Salah Abdeslam.
He told Belgian radio: "We know that stopping one cell can… push others into action. We are aware of it in this case."
Zaventem airport is 11km (7 miles) north-east of Brussels and dealt with more than 23 million passengers last year. – BBC.