Dangote Sugar records N16.6bn PBT, proposes N6bn dividend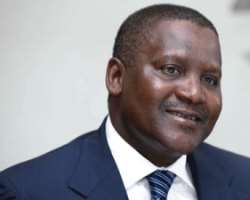 Dangote Sugar Refinery (DSR) Plc has recorded a profit before tax of N16.55 billion for the year ended December 31, 2015, showing an increase of eight per cent compared with N15.27 billion recorded in 2014.
The company's profit after tax fell slightly to N11.64 billion to N11.54 billion.
According to DSP, the profit was made from revenue of N101 billion in 2015, up seven per cent from N94.8 billion recorded in 2014.
The directors of the company are recommending N6.0 billion dividend for the shareholders for 2015 financial year.
Reacting on the performance, the Acting Group Managing Director of the company, Abdullahi Sule explained that the 2015 financial year ended with remarkable increase in volume in the fourth quarter as its strategy to reduce margins in September by 28 per cent and the addition of 100 trucks to the fleet business improved delivery to the customers.
'As a result we gained market share from competition and smugglers. I am glad that we were able to grow our revenue by 11 per cent and improve sales volumes compared to 2014 despite the current macro-economic challenges which we face in Nigeria, with an especially difficult first and second quarter.'
To improve performance, the DPR boss explained that the company have redeveloped strategy to self-sufficiency through the production of refined sugar from cane and remain zealous in its efforts to execute the 'Sugar for Nigeria' project, which will replace the company's current production in the next four to five years.
'As we execute the first phase of our backward integration plans, which now includes the Savannah rehabilitation, Guyuk and Zaria projects.
'The company said it has started 2016 on a strong and promising note. We have already had a strong start to 2016 as we pick up market share from competitors and smugglers. We have increased our fleet and are now able to meet our customer orders timely.
'We expect raw sugar prices to remain volatile for the rest of the year as weather conditions continue to threaten production in 2015/2016 season but do not expect to exceed the average achieved in 2015. We do not envisage challenges sourcing foreign currency as the federal government has insisted on its commitment to the current exchange rate.
He added that refined sugar from cane remains the company's priority as it would eliminate the company's reliance on foreign exchange as well as the volatility of raw sugar prices that it currently import,' DSR said. The Guardian