Rivers Monorail Quagmire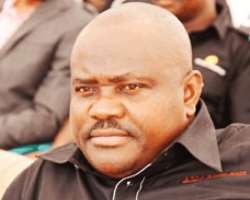 Over the last 24 hours I have received a great number of inquiries about the irregularities regarding the uncompleted Rivers State monorail. One of the charges that has been leveled against the current transportation minister, Rotimi Amaechi, by his successor, Governor Wike, has been how he spent over 400 million dollars of his states money on a monorail that he never completed.
The monorail project in Rivers, is a system designed by Intamin, and is similar to the monorail that was constructed in Moscow Russia for 240 million dollars by the same monorail manufacturer. The two companies building the pylons and track work designed by Intamin in Nigeria were; ARCUS GIBBS Nig Ltd and TSI Nig Ltd. Between the two partners and contractors with Rivers State, at least 40 billion naira (270 million dollars) was spent.
In addition, Intamin, the manufacturer of the monorail, designer and primary developer of the locomotives, rolling stock, and other technical signaling elements has taken an additional funds. Standard infrastructure adjustments were made in Port Harcourt to clear way for the new system, including roads and traffic adjustment which also was given additional funds all totaling up to 20 billion naira from Rivers State budget (135 million dollars) according to Governor Wike that said over 60 billion naira was spent.
Despite this, in Rivers state the same system has not been completed after spending far more than the amount that the City of Moscow spent building fully operational system by the same company. In fact, the Moscow system that connects to the Moscow subway is arguably more extensive than the Rivers system with more frequency of traffic and sophistication.
Right next door to Rivers, in Calabar Cross River State, Intamin partnered with the government there to build a monorail system for N5 Billion (36 million dollars)! The Calabar system is reportedly already functioning and is now conducting test runs.[7] The system in Calabar is very similar to the monorail in Rivers state which cost 1/8 the amount that was spent in neighboring Rivers State on their monorail system that is not even working! Given all that was spent in Rivers State, almost double what was spent in Moscow (which like Nigeria also records high-levels of corruption[8]), and 8 times what was spent in neighboring Calabar, it makes absolutely no sense whatsoever that today Rivers State is still without a functioning monorail, given that the government in Russia was able to construct a monorail system from the same manufacturer for about half of what has already been spent in Rivers State, and Calabar for 13% of what Rivers Government has spent on a non-functioning system. What is most disturbing about this is that, given these serious irregularities, it was somehow deemed that Rotimi Amaechi was the person best suited to be the honourable transportation minister. In his current role, the honourable Minister, who was nominated by the president and approved by the senate, will oversee the procurement of other contracts for roads, bridges, airports, the national railway, ports, and rivers throughout the entire federation!
A responsible and competent Senate would have asked specifically for definitive answers about the irregularities in the uncompleted Rivers monorail project compared with the identical far less-expensive completed monorail in Moscow Russia, and the incredibly inexpensive monorail in Calabar! The EFCC, if they were not politically compromised, would have conducted an extensive investigation into the Minister, given the amount of power and influence that he now currently has. Their hastily conducted probe into the matter undermines the credibility of the entire organization, if it had any to begin with. Even now that the minister has been approved as a minister, if the individual Senators who chair the committee on transportation and state and local government were responsible and competent, namely Sen. Ashafa Bareehu, and Sen. Abdullahi Gumel, they would have still summoned the minister for hearings on the matter. Further members of the House who chair transportation committee namely Hon. Aminu Isa, would have also summoned the honourable minister for hearings to get answers. Perhaps most significantly, and the height of irresponsibility and unprofessionalism are the numerous journalists and media outlets who have all had the opportunity to speak with the minister, and still till today, NOBODY, not one single Nigerian journalist, has ever asked the honourable minister to explain the gross irregularities between the still unfinished monorail in Rivers State and the fully completed far less expensive larger system in Moscow Russia, and even less expensive system in Calabar, all by the same manufacturer. Anyone who interviewed him should be ashamed.
What this tells us is above all, Nigerians have to decide whether they are serious about good-governance and being free the gross mismanagement in the public sector. Freedom is not given to anyone, rather it is the prize of those who take it. Our government will never be accountable to us unless we as a people stand up and demand it. Believing that any politician or political party will do what's in our best interest without us forcing them is naive and history and our present reality is telling us clearly that that is not the case. By ignoring the real issues that actually matter, our highly unprofessional media establishment, has failed to press for answers to these serious irregularities ongoing in our governing system. To allow a serving honourable minister to get away without ever explaining the over 400 million dollars squandered on a still uncompleted project by his administration on what by all estimates should not have cost anywhere near that amount is a harsh indictment on the state of governance in Nigeria, the state of our unprofessional journalist and media, and the state of our society that is watching it and saying nothing.
CITED:
1. http://www.riversstate.gov.ng/index.php?option=com_content&view=article&id=543:monorail-project-to-be-completed-in-amaechi-s-administration&catid=91&Itemid=512
2. http://guardian.ng/news/rivers-monorail-project-no-longer-tenable-after-gulping-n33-9b-says-technical-partner/
3. http://businessdayonline.com/2013/05/rivers-n150bn-monorail-project-to-be-completed-2015/
4. http://www.liquisearch.com/moscow_monorail
5. http://sputniknews.com/russia/20150913/1026950290/moscow-monorail-closure.html
6. http://newstage.com.ng/2016/01/29/amaechi-must-account-for-over-n3trn-rivers-govt/
7. http://www.calabarblog.com/calabar-monorail-to-commence-operation-before-easter/
8. http://www.themoscowtimes.com/news/article/russia-improves-position-in-international-corruption-rating/557032.html
Kuranga and Associates Limited is an investment management advisory firm and an asset manager with a principle practice area of Africa. To learn more about Kuranga and Associates go to www.kaglobal.net . © Copyright 2016 David Kuranga. All rights reserved. This material may not be published, broadcast, rewritten or redistributed.
Disclaimer:

"The views/contents expressed in this article are the sole responsibility of the author(s) and do not necessarily reflect those of The Nigerian Voice. The Nigerian Voice will not be responsible or liable for any inaccurate or incorrect statements contained in this article."
Articles by David O. Kuranga, Ph.D.