Ghana Nigeria Youth Summit 2016 Hold In Accra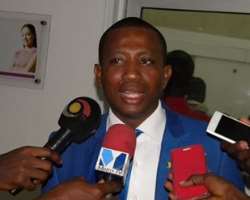 It was an exciting atmosphere at the British Council Auditorium, Accra-Ghana as young people from Ghana and Nigeria gathered together to share ideas on how best Africa can move forward. The attendance was massive as a lot of people trooped to the venue to contribute their ideas on what they feel can make Africa a better continent.
The theme for this years event was 'Heralding the Rise of selfless African Leaders,time for Ghanaian and Nigerian youths to set the pace'.It was amazing seeing the number of people that showed interest in this years event.
In his welcome address,,Comrade Barry Ndu Nwaihim the Public Relation Officer of All Nigerian Community,Ghana and Coordinator of Rebrand Nigerian Youths in Ghana Organisation,RNIGO,Organizers of the Summit asked the young people that attended the event to rise up and take their future in their hands by doing only things that positions them on the right track.He said time has come when citizens should start holding their leaders accountable.
He advised that only people with good intention for Africa should be voted into office during elections and urged young people not to sell their conscience by taking peanuts from politicians to cause violence before ,during and after any election.He also pledged the commitment of hs group to continuously mobilize young people into being peaceful at all times.He urged the different leaders of African Governments to always incorporate young people into leadership positions as they have the capacity to make impact.
Paul Adom Otcehere,the Host of Goodevening Ghana on Metro TV reminded the delegates that Africa has so much hope on them as what they do today would determine where Africa would be in the coming years.He disagreed with the notion that youths are leaders of tomorrow.He believed young people are leaders of today based on the massive impact a lot of the young people are making in their different field of endeavor.He believe Africa can take its rightful position in the world status when the lessons learnt from the summit are taken seriously.
Mrs Ifey Ikeonu,the Chairperson of the ECOWAS Regional Electricity Regulatory Authority who was also a Guest Speaker described young people as intelligent,innovative and creative sighting an example of an African young person who has developed a social media platform that enables chatting and all other features as some of the good product that must be marked tto th western world.She assured of her support to the group at all times as she believes their mission is laudable.
Hon. Nii Naomole,the Member of Parliament for La-Dadekoton encouraged the need for more collaboration between Ghana and Nigeria as the resources they have can be effectively used to better the lives of its citizens.Barr. Ogochukwu Nweke in his lecture said that Africans must stop seeking European solutions for African problems.He said we can solve all problems that confronts us when our leaders become sincere and accountable to the people.
Samuel Jack,the founder of Africhat was honored for his contribution to putting Africa on world map through his innovations.Mrs Ifey Ikeonu was also awarded for her support to young people and making Africa proud.In all,it was a memorable event as Organizers assured of more intellectual programmes that unite Africans.
They hope to repeat a version of the Ghana Nigeria Youth Summit in Nigeria.They also intend to sub,it the Resolutions reached at the Summit to the President of the two countries through their Ministers of youth.