Petition Against Nigerian Breweries For Evacuation Of Toxic Waste to Aba Rivers And Its Environs: Calls For Immediate Remediation And Cleanup Of The Polluted Areas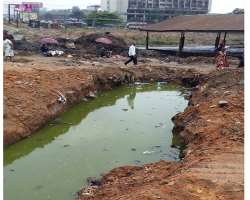 The Brewery Manager
Nigerian Breweries PLC.
Aba, Abia State
Dear Sir
PETITION AGAINST NIGERIAN BREWERIES FOR EVACUATION OF TOXIC WASTE TO ABA RIVERS AND ITS ENVIRONS: CALLS FOR IMMEDIATE REMEDIATION AND CLEAN UP OF THE POLLUTED AREAS.
ABOUT FENRAD
Foundation for Environmental Rights, advocacy and Development (FENRAD) is Environmental& Human Rights organization that seeks the advancement of proper environmental protection, the enthronement of healthy community levels, the support of peace, justice, Development, Human Rights and Good governance. Foundation for Environmental Rights, Advocacy & Development (FENRAD) was incorporated into Corporate Affairs Commission under the Trusteeship Act of non-political, non-religious and non-profit making organization in November 2011.
It has been working and participating in awareness activities, campaigns and interventions since September 2003 on Environmental sustainable, Social Justice and Human Rights across the country.
FENRAD aim at unifying and co-coordinating isolated civil society efforts on climate change mitigation and adaptation advocacy in Nigeria and Africa at Large to ensure that pro-poor and people oriented centered response measures are accorded desirable attention as government in Africa and internationally seeks to mainstream climate change into national and global poverty reduction and sustainable development Goals.
Since 2008 FENRAD has gained recognition at African and international levels and has forged strong advocacy campaign of intricate challenge in managing climate change crisis and bringing human approach in global call for collective action against the biggest challenge facing humanity in the 21st century.
FENRAD has robust outreach strategy with track record of contributing enormously to reshape human consciousness and development paradigm that positively transformed the society and raising voice in international dialogue as well as driving climate change policies by holding corporate entity accountability as it concerns environmental indiscipline and breach of protocols and conventions in line with international best practices and equity based response to climate change issues.
We are highly concerned with Evacuation of toxic waste to Aba River and its environs which have pose a serious health hazard to the occupant of this Area thereby breaching international environmental laws, standards, principles, rules and regulations as enshrined in different United Nations and other environmental bodies on environment which Nigerian Breweries Plc is a party and Signatory.
Our group therefore, totally condemn this act of environmental indiscipline from a multinational company that is under obligation to respect and uphold sound environmental standards and respect to human rights.
Assessing the risk of loss and damage associated with the adverse effect of the toxic waste disposal, pollution of the Environment, including slow onset impact on the water, food and livelihood of the communities impact, it is pertinent to note that Nigerian Breweries has breach environmental standards, principles and code of conduct under the United Nations Global Compact on Environment and Sustainable Development which Nigerian Breweries Plc is a member.
We are also very much aware that your unfortunate action in polluting the said environment violates the Mission Statement of the Company which States that "To be a leading company in Nigeria, marketing high quality brands to deliver superior customer satisfaction in an environmentally friendly way". Your action does not promote environmentally friendliness.
Following this unfortunate and unsustainable actions, we therefore make the following demand as part of actions geared towards remedying this embarrassment:
1. Nigerian Breweries Plc should immediately calls for joint investigation visit of the relevant stakeholders for impact assessment of the polluted sites and its adjoining communities.
2. Engage the communities involved to mitigate the adverse effect of the pollution and destruction of Aquatic lives
3. Commence immediate remediation and clean-up of the impacted areas which all relevant stakeholders must be involved to ensure standardization.
4. Pay compensation to the parties and communities that the toxic waste and pollution have affected their soil, water, Health and other aquatic lives.
5. Start further negotiation with relevant stakeholders on policies and measures to manage their waste water and stop further pollution of the environment and its attendant effect on the eco system.
6. Please note that you have seven (7) working days to respond to this petition as appropriate Authorities have been alerted incase of default which will inform our next line of Action
7. An apology letter to be published in recognized National Dailies/Newspaper regretting your unfortunate actions and stating steps you are taking to remedy the situation
8. Please be properly guided
Find attached the pictures of the toxic waste and the impacted areas.
Regards
Comrade Nelson Nnanna Nwafor Barr. Olusegun Bamgobse
Executive Director
Foundation For Environmental Rights,Advocacy & Development(FENRAD) Legal Partner
Co-Petitioner:
Emmanuel Acha
National Coordinator
Partnership Advocacy for Inclusive Development (PAID)
Enugu, Nigeria
Office Address: No 51 Zik Avenue, Uwani Enugu, Enugu State, Nigeria.
Tel: 08033751328, 07081816961
Email: [email protected]
Co- petitioner; Comrade Innocent Anozie Nwokocha
Society for Economic Rights & Social Justice (SERSJ)
5 Peter Onono Street, Faulks Road, Aba.
Tel; 08063771269,07034637065
Email; [email protected]