No Tears For Wike As He Is Reaping What He Sowed, Says Rivers APC As Senator Sekibo, Militants Move Against Embattled Governor
....Slams Him For Sending Family Abroad While Stoking Violence In The State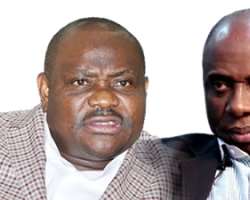 Embattled Rivers State Governor, Chief Nyesom Wike, on Thursday came under fire from the State Chapter of the All Progressives Congress (APC) for sending his family abroad ahead of the March 19 rerun State and National Assembly elections in the State. "By this action, Wike, who has been stoking violence in the State ahead of the rerun polls, is saying that the life of his family members is more important than those of the other millions of Rivers State people which he has put at risk," Rivers APC Chairman, Dr. Davies Ibiamu Ikanya, said in a statement issued in Port Harcourt.
He blamed Wike for the current crisis in his camp, which has reportedly seen some of his key allies such as Senator George Sekibo and Wike's militant loyalists led by Chief Ateke Tom turning against him following his recent unguarded utterances against President Muhammadu Buhari and the Chief of Army Staff, Lt.-Gen. Tukur Buratai.
Already, Senator Sekibo, citing insincerity in the actions of Governor Wike, has decided to part ways with his benefactor. The three-time Senator of the Federal Republic of Nigeria was quoted as saying: "Wike who is my junior both in age and politically can't endanger my political career with his unguarded and uncouth utterances against a sitting President with a military background. Look, I was the Chairman of the Senate Committee on the Army and for a fellow to call a sitting Chief of Army Staff names, such a fellow is destined for doom and I don't want to be a part of that."
Wike had recently been reported to have said: "Let the Chief of Army Staff come on Saturday to dare the will of the PDP and let's see if he will go back home alive." He also was reported to have said: "Buhari as a Fulani President, cannot take any security decision without my consent and if he does, I will personally send him to his ancestors." He equally was reported to have said about his predecessor, Rt. Hon. Chibuike Rotimi Amaechi: "People of Ikwerre LGA if you see Amaechi in your polling unit, beat him up or kill him."
Rivers APC condemned the utterances, saying that they have further exposed Wike as unfit to occupy the exalted office of Governor.
The party advised the electorate not to be intimidated by Wike's threats but to come out en masse on Saturday and vote massively for APC candidates since their security has been guaranteed y the Inspector General of Police, IGP Solomon Arase, who is sending over 6,000 crack police team to supervise the rerun elections.
Long Live APC!
Long Live Rivers State!!
Long Live Federal Republic of Nigeria
Long Live President Muhammadu Buhari
Chief Eze Chukwuemeka Eze,
SSA Media and Public Affairs to the State Chairman, APC Rivers State. 08038199163
17-03-16