DEXTER'S MICHAEL C. HALL IS FULLY CURED OF CANCER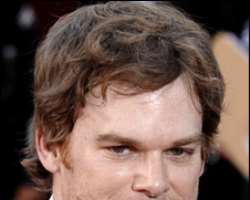 Dexter star Michael C. Hall has recovered fully from cancer and has returned to work, his wife Jennifer Carpenter has said.
Hall, 39, announced in January he had been diagnosed with Hodgkin's lymphoma, a cancer that attacks the lymph nodes.
Carpenter said Hall had been "incredibly brave" to make his condition public.
In his award-winning role, Hall plays Dexter Morgan, a Miami police analyst who moonlights as a serial killer.
Hall went into remission and continued treatment at a health centre near Los Angeles.
Dexter has been a big hit with viewers on both sides of the Atlantic and Hall has won much praise for his performance.
Earlier this year, the actor won a Screen Actors Guild Award and a Golden Globe Award.
In the show Dexter is a serial killer who targets other murderers. Carpenter also stars as Dexter's seemingly unknowing sister.