Industrialization: Abak Transition Chairman Attracts Foreign Investment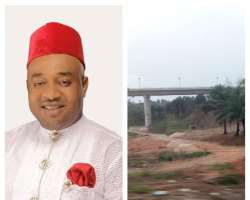 The industrial development and wealth creation revolution of the Governor Udom Emmanuel-led administration has received a massive boost in Abak, as the Local Government is set to experience enormous industrial upheaval with the calibre of companies that have begun to arrive Abak invited by the Chairman, Honourable Dr Emmanuel Udosen.
Dr Emmanuel Udosen, the Transition Chairman of Abak has successfully attracted three foreign investors who are already on ground to invest billions of naira in the industrialization of the area.
According to Hon. Udosen, the first investor, Tilapia Island Company Limited has started site clearing for the Development of an Abak Natural Lake Side and Recreational Park to be sited beside Ediene Abak hanging bridge. The tourism project will create over 100 direct employment opportunities for the youths of the area and likewise serve as an avenue for revenue generation when fully commissioned. Other sight attractions of the Park are an Artificial Zoo, Fish Pond, Canoe padding, and other entertainment spots.
He also added that the other investor, Iniakams Limited has also indicated interest to take over and develop the Abak Guest House into a three star Hotel with international exquisite facilities and also establishment of a pipe production industry. These projects are expected, after commissioning, to provide 500 jobs.
Another mega deal is a 2 billion Naira investment meant for construction of a multi-purpose shopping mall and confectionery industry by a German Company. This project is designed to be like an international market where all the foreign products can be easily purchased at cheaper rate than if one were to travel out.
With this industrial development, Abak will soon experience a very comfortable Internally Generated Revenue (IGR) framework, and the strong desire of creating wealth by Governor Udom Emmanuel especially for women and youths will be actualized .
These companies are expected to create jobs for about 30,000 of the teeming youths of the Local Government, beside establishing Abak as a major industrial hub in the Akwa Ibom industrial programme of the Udom Emmanuel led government.
Atuekong Paul Bassey
Publisher - www.ibommobile.com
+2348109879155