Gov Wike lacks capacity to govern, he's only interested in stealing: Rotimi Amaechi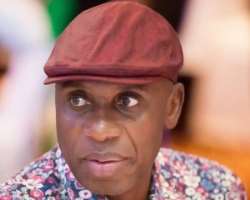 The Minister of Transportation, Mr. Chibuike Rotimi Amaechi, on Sunday said that his successor, governor Nyesom Wike of lacked the political will and capacity to govern Rivers State.
Amaechi, who is the immediate past governor of the state, who was speaking at an APC rally in Rumueme, Obio/Akpor Local Government Area of the state, challenge Wike to prove his often-made charge he (Amaechi) was corrupt.
The minister was in the state to campaign for All Progressives Congress candidates ahead of the state and national assembly elections on Saturday.
He said that while Gov Wike lacked evidence to prove his corruption charges against him, he (Amaechi) said he had proveanle charges of corruption against the governor.
The minister said, "Wike lacks capacity to govern. Somebody who just knows how to steal money is a bushman. Wike said, am corrupt. He should bring evidence to show. I will bring evidence to show that Wike is corrupt. Wike did the Rukpoku/ Eneka road during my tenure he did not complete it. I gave Wike the contracts to do all the roads around Aristle House(a hotel in GRA) but he failed to do them, I gave him fourteen schools to give to Obio/Akpor people, he stole them, he lacks character".
He also Also spoke on the security situation in the state, which he blamed on the inaction by Gov Wike.
"When I was the governor, one thing that I kept thinking of was how to chase these criminals away but under Nyesom Wike, he meets with them. If Wike does not secure you people, the federal government will secure you. If he doesn't want to be ignored he should go and secure you people because federal government will no longer tolerate these killings in Rivers State," Amaechi said..
Amaechi further told his supporters not to be intimidated by Wike's threats and come out to vote APC at Saturday's election.
"Saturday is your day, come out and vote.They will no longer have the Police they had, they will no longer have the Army they had, we pray that INEC should be neutral, your job is to match out and vote for APC ,we will not write results like Nyesom Wike , so go back to your wards and do door to door".
Also, in Akuku/Toru local government area, Amaechi told his party supporters to be courageous in exercising their franchise without fear of intimidation
"You see, it is not enough to provide security because if there are no votes we will lose, the implication therefore is that all of you must come out and vote for APC so that we will win the election.",he said.
Amaechi had earlier paid condolence to the family of slain APC stalwart Mr. Ofirite Amachree who was killed and burnt beyond recognition by unknown gunmen in Buguma.
Amaechi has also pledged to assist families of slain All Progressives Congress (APC) members in Omoku, Ogba,Egbema/Ndoni local government area of Rivers state.
Amaechi gave the assurance at the weekend when he visited families of late Frankline Obi and late Chukwuladi Adiela in Omoku, Rivers State.
The late Frankline Obi was the APC chairman of ward 4 and was killed and beheaded by unknown gunmen alongside his pregnant wife and son.
while condoling with the deceased's family, the Minister said, "The President is aware of the death of your son who was our party ward chairman. I personally gave him the photograph of the beheaded body. Everybody must learn to give account of their action or inaction in Omoku. We can't have police and be experiencing this kind of thing. Internal security is the responsibility of the police so if we have police and keep experiencing this in Omoku it means the police in Rivers State has failed and the people that are being killed are mostly APC members".
Amaechi also told the bereaved families that the president was aware of the killings in Omoku and promised that full investigation will be carried out to unravel the killers.
"The President is fully aware of the situation. I was the governor of this state and Omoku wasn't this bad…. The police can't claim not to know who the people are because I was governor, the police worked with me, we knew where the criminals were and we went after them."