Nyako Is A Father And Is Still Politically Relevant In Adamawa State—APC Officials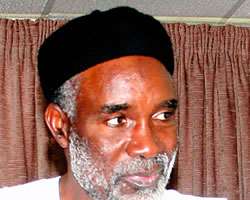 The entourage of Adamawa state chapter of All Progressives congress (APC) ,under the able leadership of Ibrahim Bilal has yesterday in Mayo Belwa extolled the good qualities of Murtala Nyako, the former Governor of the state, describing him as a father and whose political prowess is still been felt all over the state and the country at large.
Bilal others officials said that to hundreds of party supporters during a one day tour in Mayo Belwa as against the conceived and believe of some party members to shed more light on how he became the acting state chairman of the party.
He revealed his coming on board was an endorsement by all the party officials in the state and was equally ratified by all the party stake holders in the state and was purely a due process affairs.
Ibrahim said that all the activities of the party in the state, Nyako,Atiku, Babachir and Governor Bindow are in the full know as they are the major stake holders in the party.
Bilal also told the APC teaming supporters that his main aim of coming is to authenticate party officials and members because there is the need of replacing many people who have either left the party as a result of appointment,transfer,dead and even those reliably gathered they involved in anti party activities.
He ensured them of true internal democracy in the party that no one will impose any candidate for whatever reason,the people now has the veto power to decide who will be their leader.
The party Chairman of Mayo Belwa, Alh. Babangida Talasa concurred that Nyako has done what many people in the state did'nt do in terms of physical and human development,i can beat my chest to tell you Nyako is not only a political in the but at the country in general.
According to him Nyako was the linked man that create the present Mayo Belwa his LGA of Origin,Shelleng and Guyuk LGs were all his idea just to mention a few.