Man who rushed Trump tells police act pre-planned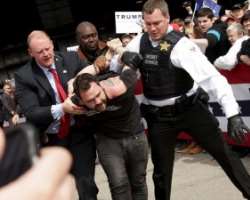 A man arrested after trying to jump on the stage at Republican Donald Trump's campaign rally in Dayton reportedly told police he planned to grab the microphone and yell that Trump is a racist but didn't intend to hurt anyone.
The Dayton Daily News reports (http://bit.ly/1ph5M0O) that it has obtained a police report that says 22-year-old Thomas DiMassimo told officers that he'd given his car keys to his girlfriend at Saturday's rally anticipating that he'd be arrested. DiMassimo, of Fairborn, was charged with misdemeanor inducing panic and disorderly conduct. He was released on bail.
DiMassimo, an acting student with Wright State University's theater program, couldn't be reached for comment. It's unclear if he has an attorney.
Trump was campaigning ahead of Tuesday's Ohio primary.
According to witness Chris Famiano of Columbus: "Trump was giving his speech and everyone was into it. And within about a split second somebody from around the bend had jumped over the fence and was charging Donald Trump."
"And before you know it the Secret Service had like four or five guys on him, they wrestled him to the ground. They put him in the ties and then they took him away," Famiano said.
Trump Rally Postponed in Chicago as Large Crowds of Protesters Gather; 5 Arrested
Republican Rivals Call on Trump to Take Responsibility for Violence
Trump Speaks Out After Postponing Chicago Rally: 'I Don't Want to See People Hurt'
Trump earlier told the crowd the protests that forced him to postpone a rally in Chicago on Friday was a "planned attack" that "came out of nowhere."
Trump said more than 25,000 people were registered for the rally at University of Illinois at Chicago Pavilion Friday. Protests quickly broke out among some of those in attendance as they waited for Trump to speak.
Trump said. "All of a sudden, a planned attack just came out of nowhere."
Trump said the protests were "very professionally done" and placed some blame on Vermont Sen. Bernie Sanders, saying some of the protesters were his supporters.
"[Sanders] should really get up and say to his people, 'stop,'" he said.
Sanders defended his supporters while speaking in Chicago on Saturday.
"What our supporters are responding to is a candidate who has in fact in many ways encouraged violence," he said.
Trump said he hadn't wanted to cancel the Chicago event but did so over safety concerns.
"We dealt with law enforcement at every level," Trump said. "It was determined that if we go in, it could cause really bad, bad vibes."
The Chicago Police Department said it had sufficient officers to handle any issues at the rally. Interim Chicago Police Superintendent John Escalante said the Trump campaign hadn't consulted with the department before calling off the event.
The clashes between protesters and his supporters, which Trump called "disgraceful," led to five arrests and two police officers being injured.
Earlier in the day, Trump blamed "thugs" who denied him his First Amendment rights at the rally.
AP/ABC News