Rivers Rerun Polls And The Imperative Of Magnus Abe's Return To The Senate And Why His Victory Is Not Negotiable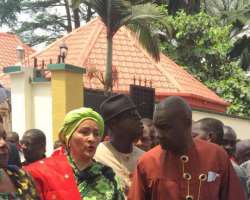 PREAMBLE
On March 28th, 2015 the people of Rivers State and Nigerians in general trooped out to elect a new President, Senators and members of the Federal House of Representatives. We all know what happened in Rivers State, where agents of the Peoples Democratic Party (PDP) maimed and killed over 100 All Progressives Congress (APC) members in a desperate bid to sweep the elections by all means. However, as God would have it, all the senatorial elections and 12 out of the 13 Federal House of Representatives candidates – all PDP members – wrongly declared elected were annulled by the Appeal Court to set up the rerun election billed for 19th March, 2016
Chike Okonkwo, an authority in the political history of Rivers State, immediately after the Appeal Court annulled the election of Senator Olaka Nwogu of PDP and directed for a rerun election, wrote and I quote: "With respect to other Senatorial zones of the Sate, the March 19th rerun election will actually be fought at Rivers east senatorial zone, where Magnus Abe comes from. Wike, a thoroughbred politician, will start his re-election process by doing everything possible to stop Abe. (Okonkwo did not reckon with the magical and influenced judgement by our Supreme Court that against all calculations upheld the election of Wike). Allowing Abe to move with the profile and office of a senator is not in the interest of Wike/PDP in Rivers State and more importantly his re-election. One sure way to humiliate the opposition is to defeat Abe in Ogoni land. Ogonis must decide whether to become an atomistic society perpetually at war with themselves or unite and take their deserved place in Rivers affairs."
To Okonkwo, "Senator Abe is a Senator that Nigeria needs now. He is a Senator not only Ogoni needs but Rivers State. All hands must be on deck to get Abe back to the senate. This is one victory Wike might not allow for now and 2019 reasons. Abe is a man many senatorial zones will wish to have especially myself still struggling to accept the Andy/Chris Uba senatorial representation. Abe is head and shoulders above any senator in the entire SS and SE in the present NASS – a senator's senator, administrator extraordinary, the present face of APC in Rivers state. He is one leader that we must all rally behind."
Governor Nyesom Wike of Rivers State after reading Okonkwo's statement and to prove that he has nothing to offer for the greatness and emancipation of Rivers State set up himself to ensure that this great son of Rivers State does not get re-elected. His sinister plot against this noble project that will benefit the entire South-South and South East regions of Nigeria will be highlighted later in this piece.
THE MAN SENATOR MAGNUS ABE
Meanwhile, let me at this junction present Most Distinguished Senator Magnus Abe to you. Senator Magnus Ngei Abe, the All Progressives Congress (APC) candidate in the Rivers South East Senatorial District for the rerun election of 19th March, 2016.
MOST DISTINGUISHED SENATOR MAGNUS NGEI ABE is a lawyer by profession, an administrator par excellence, a political strategist of repute, an information expert and the best Commissioner for Information ever in Rivers State.
Abe entered politics in 1999 when he was elected into the Rivers State House of Assembly, serving as Minority Leader. In 2003 he defected to PDP, and from 2003 to 2007 he was Commissioner of Information in the administration of Governor Peter Odili. When Governor Rotimi Chibuike Amaechi assumed office in May 2007, Abe was appointed Secretary to the Rivers State Government. He resigned to contest for the position of Senator for Rivers South-East, which he won. He was Chairman of the Petroleum Downstream Committee and member of the National Population & Identity Card Committee in the Senate. Senator Abe is one of the two great Nigerians that Governor Amaechi respects for their high intelligence – the other being Rivers APC gubernatorial candidate, Dr. Dakuku Adol Peterside.
Abe and his type of politics
Senator Abe in describing his type of politics stated and I quote, "Those who knew me would testify that i had never been a desperate politician. I recalled that when the caucuses in the Senatorial District endorsed him in 2003, and the leadership of the party said otherwise and chose Senator Lee Maeba i quickly supported Maeba without fighting him.
It is a fact that when my party did not approve of my ambition to be the governor of Rivers State, i did not fight the party neither did i give them personal conditions but rather presented only the interest of the Ogoni.
It is also a fact that when Nyesom Wike was detained by the EFCC, i went to EFCC to obtain his release insisting that without the release of Wike I would not leave. This, i compelled the EFCC to detain me together with Wike.
If I may ask, can a person with such antecedents could be referred to as a desperate politician?
"I want to say clearly that Rivers people know that I am not a desperate politician and will never be. Between me and Governor Wike who is desperate for power", he said.
Today, I can boast without mincing words that I have made more sacrifice for the cause of Ogoni than many of those criticizing me.
The records shows that when I was in the Senate, the Senate at that time had closed acceptance of demand for state creation but I used my influence to make it possible for the senate to receive the application for Bori State submitted by Chief Cyrus Nunieh.
THE UNEP AND THE OGONI CLEAN UP EXCERISE – MY IMPACT
This is what Senator Abe said on the above subject matter, On the case of the implementation of the UNEP report, I made frantic efforts to convince the former President Jonathan to implement the report without success. When I understood his body language that he was not prepared to bulge and it was beginning to be obvious that President Buhari would win, I told his party that they should grant him the request to meet President Buhari on the matter before the election.
This request was granted with the former governor of Rivers State, Rt. Hon. Chibuike Rotimi Amaechi, as the director general of Buhari campaign organization.
the records is there for anybody to read that I went to Sakpenwa with the Chairman of the Supreme Council of Ogoni Traditional Rulers, King GNK Gininwa, President of KAGOTE, president of MOSOP as well as cream of Ogoni leaders and handed over the request for the implementation of the UNEP report to President Buhari. It is also a fact at that time, those who are in PDP now talking about UNEP report were organizing attacks against the contingents of Ogoni people going for the event. Many of our people were injured.
In a matter of days the implementation of the UNEP report for the clean up of ogoni land will commence and It is instructive to note that I and the then Rivers state governor Rotimi Amaechi were instrumental in extracting that campaign promise from the then APC presidential candidate Muhammad BUHARI back in 2014/2015 while we were all on the march to change Nigeria and stop the misrule of the PDP led federal government under a son of the Niger delta GOODLUCK JONATHAN who "forgot" the UNEP report in some drawer in the villa. Meetings have been going on for months, and preparations have finally reached a point where one can proudly say it's all set and clear.
With the arrival of the Minister of environment in Rivers State to kick-start this process, one can only heave a sigh of relief. It's a campaign promise kept. Today I remember the admonition of chief Timipre Sylva back in 2014 ... 'A good friend is better than a bad brother who abandons u out in the open for the enemy to devour'
'I celebrate the minister ( of environment), and the minister of state for coming to Ogoni as part of the process of implementation of the report. This is actually the second visit by Ms Amina Mohammed to Ogoni. Please name any other minister that had visited us in connection with the implementation of this report. Let's depoliticize the process. It's not Buhari's fault if Jonathan had the ball at the goal mouth for six years and refused to score, rather he took the ball back to his own goal and committed a penalty in the box. Buhari is just trying to score this penalty and get on with the game'
My sacrifices were so many that i just could not recount them starting from when he was in the State House of Assembly, as a Commissioner, Secretary to State Government and Senator.
With all these feats, it is sad to note that I am the fellow that the PDP cohorts were burying at Bori in their politics of mudslinging. Let further state that there were many things I had done for my people and I wish to vow to continue to do more for them whether in or out of power.
It is shameful and regrettable that the likes of Senator Olaka Nwogu, Senator Lee Maeba, Kenneth Kobani, Dum Deekor and others could throw friendship away to carry on their heads and said they were burying Abe. The fact remains that I am not demoralized as the Ogoni man is one of the most enlightened person in Rivers state and I have been asking questions that how come the man who had made many sacrifices for his people could be the one killing his people and being buried?
In conclusion, let me reiterate that Ogoni people cannot be fooled.
SENATOR ABE AND SENATOR NWOGU
Senator acknowledged the superiority of Senator Abe once in a function before Wike conscripted him into running for the senate and stated and I quote, "Senator Magnus Abe, but you should have told me that you are bringing a giant Transformer to my home town Alesa. I was thinking you will bring indomie noddles, knowing my people are not used to modern facilities like NEPA light. My annoyance was the way you and Hon. Barry Barinada Mpigi brought Transformer, Hair driers, electric barbing clippers, small power generating sets and such gadgets. The worst is my people saying I only come home during elections and that you are always coming to Eleme and other LGAs attending marriages, funerals, children functions, church services and others. I can't do that"."We shall vote for SENATOR Magnus Abe because he is able."
It is thesame funny Chief Nwogu that have to switch off his phones, locked his gate in Eleme and became inaccessible. Even those who shot guns and carried ballot boxes for him couldn't reach him for the six months he stayed in the Senate. Is it this type of character that will be representing an enlightened zone like South East senatorial zone? God forbid!
The fact remains that with a jester like Senator Olaka Nwogu who manipulated his way into the Senate after the 2015 Election as an opponent to Senator Abe in the March, 19th rerun election, the electorates in the South East senatorial zone will be doing a great disservice to Nigeria if Abe is not duly elected this time around.
ABE AND DETAILS OF HIS FOOTPRINTS
1. EDUCATION
As constituency project, he constructed a state-of-the-art laboratory block for the department of anatomy in Uniport.

.
As Constituency project, he constructed two Model Secondary Schools in Zaakpon, Khana LGA and Iwoma Estate in Umuosoya, Oyigbo LGA.

He constructed an administrative block in Rivers State University of Science and Technology.

He Sponsored 10 girl child at the cost of N3Million annually in the St. Martins De Porres Girls College, Ubima, Ikwerre LGA.

He procured JAMB forms for over 1200 candidates of his Senatorial District in the last four years.

Through his Final Year Support Scheme, he Assisted 900 final year students with fees and project support.

)Through his Education Support Initiative, he provided support for 120 students from the Senatorial District through Law School.

)He Provided scholarship to 9 Journalists of his Senatorial District, covering their Post-graduate and Higher diploma programs in Journalism

He awarded a Scholarship worth N100,000.00 each to 159 students of his senatorial district to study in higher institutions.

He provided monthly stipends to student leaders of his senatorial district.
.
11) He Sponsored the training of graduates at the Workmanship Training and Technical Centre of RSSDA.

) He donated computers to the Rivers State University of Science and Technology.

Each year the senator paid bursary of 30,000 naira to hundreds of students from his senatorial district.

Even after the expiration of his tenure, just two weeks ago, he bought Jamb Form and paid for WAEC Registration of all the students in Maria High School, Bane, for this year and next year. He also did the same thing for the Community Secondary School in the same village.
All funding for these education intervention projects that are not constituency projects were sourced by the senator from his personal pocket. Also note that there are countless education-related assistance the Senator randomly provided in school fees to individuals that are not part of these systematic and coordinated efforts captured here.
Nelson Mandela Says, "education is the most powerful weapon you can use to change the world." Any man who gives you education has not given you fish, but has taught you how to fish. And this is what we expect from other Nigerian politicians.
2. SKILL ACQUISITIONS
Graduate Skill Acquisition project – 40 beneficiaries.
Youth skills acquisition program in the following communities: Bera 20, Kwawa 12, Andoni 21, Eleme 30, Boue 3, Biara 7 and Gwara 10.
3. WATER PROJECTS
Rehabilitation of Industrial Borehole covering 5 communities in Ahoada East LGA with 27KVA Generator.
Donated Water Borehole to Kaani II, Khana LGA with a Generator
Constructed Water Borehole in Duburo Community, Khana LGA with a generator.
Constructed Water Borehole in Oyorokotor Community in Andoni LGA with a generator.
Provided Water Borehole in Kira Community, Tai LGA with a generator.
Donated Water Borehole to Olukanam Community, Andoni LGA with a generator.
Constructed Water Borehole in Bera Community, Gokana LGA with a generator.
Provided Water Borehole in Giokoo Community, Gokana LGA with a generator.
Donated Water Borehole to Nchia Market traders, Alode in Eleme LGA with a generator.
Constructed Water Borehole in Oyigbo LGA with a generator.
Provided Water Borehole in Baen Community, Khana LGA with a generator.
Donated Water Borehole to Sogo Community, Khana LGA with a generator.
4. ELECTRICITY
Electrification project in Kaa Community, Khana LGA.
Rehabilitated electricity project in Gwara Community, Khana LGA.
Extended electricity project to the following Communities in Khana LGA: Luubara, Gure, Eweh, Pue, Duburo, Zaakpon, Sii, Kabangha, Luumene Bangha, Luegbo Beeri Bangha, Luere Beeri, Nyokuru, Bianu, Luuwa, Nyogor Lueku, Korokoro Lueku, Lueku Bangha, Koro Bangha, Kere Bangha, Nyobe Bangha and Bionu Bangha at the cost of N21,000,000.00.
Paid electricity bill of N7,000,000.00 owed by communities in Khana LGA.
Procured and distributed Transformers to the following communities: Bera and Deeyor, Gokana LGA; Nkoro Community, Opobo/Nkoro LGA; Kpite, Tai LGA and Mgboji, Oyigbo LGA.
Presently linking Ajakajak Community in Andoni to the national grid with two high tension tower's line and installation of 500kva transformer for the electrification of the community.
5. HOUSING
Reconstruction and completion of Biara Community Town Hall, Gokana LGA.
Construction of a 3 bedroom apartment for a less privileged woman in Deeyor Community, Gokana LGA.
Donation towards the construction of the Palace of the Paramount Ruler of Deeyor Community, Gokana LGA.
6. SPECIAL PROJECTS
Rehabilitated Kono waterside Jetty for use by the people of Opobo/Nkoro, Andoni and neighbouring Ikot-Abasi, Akwa-Ibom State.
Graded a 10km access road from East-West expressway to Kaani II, Khana LGA.
Graded access road in Kono Community, Khana LGA
Constructed a major culvert in Kono Community, Khana LGA
Constructed a footbridge in K-Dere, Gokana LGA.
Built a state of the art secretariat for National Union of Ogoni Student with computers and generator etc.
Provided relief materials to the people of Oronija Community, Andoni LGA.
Provided 50 midgets (micro tape recorders) to journalists from the 7 LGAs that make up the Rivers South-East Senatorial District.
Renovated Jetty and bus stop in Kaa Community, Khana LGA.
7. HEALTH/SANITATION
Sponsored free eye testing and correction for school children in the senatorial zone.
Led HIV/AIDs awareness campaign in Gokana LGA
Led a special sanitation exercise in Bera Community, Gokana LGA
8. SPECIAL EMPOWERMENT SCHEME
Provided 24 sewing machines to Eweh community, Khana LGA and another 15 yet to be distributed.
Provided fishing gears to Oyorokoto fishing port, Andoni LGA.
Donated motorcycle to 51 beneficiaries under his free transport scheme, Gokana LGA and 30 in Oyigbo LGA.
Donated 19 motorcycle to the 19 wards in Khana LGA
9 WOMEN EMPOWERMENT
Supported 50 market women in Oyigbo with N2,000,000.00 for small scale business.
Donated 1,100 wrappers to women of Opobo/Nkoro LGA.
Donated 1,900 wrappers to women in the 19 wards of Khana LGA.
Donated 1,700 wrappers to women of Gokana LGA
Donated 1,000 wrappers to women of Eleme LGA
Donated 1,000 wrappers to women of Tai LGA
Donated 1,100 wrappers to women of Andoni LGA
Donated 1,000 wrappers to women of Oyigbo LGA.
Donated 17 ladies motorcycle to the 17 ward women leaders in Gokana LGA.
Empowerment of 100 women in Bori.
11. PEACE AND CONFLICT RESOLUTION
Contributed towards the enthronement of peace in several communities across the Senatorial District.
12. RELATIONSHIP WITH NON-INDIGENES
Financial support to non-indigenes in Rivers State.
Donated 1,000 wrappers to female non-indigenes in Rivers State.
13. SUPPORT TO RELIGIOUS ACTIVITIES
Donated a brand new bus to the Christian Association of Nigeria (CAN), Gokana chapter.
Supported evangelistic activities in Bori and Degema
Fixing of tiles in The Apostolic Church Auditorium, Bera, Gokana LGA.
15. CONSTITUENCY PROJECTS
Construction of Primary School at Rumusoya Community, Oyigbo LGA.
Construction of Primary School in Sogho Community, Khana LGA.
Construction of State-of-the-art laboratory block for the Department of Anatomy, University of Port Harcourt.
Construction of an Administrative Block for the Faculty of Law, Rivers State University of Science and Technology, Port Harcourt.
16. MDG PROJECTS
Facilitated the implementation of the following MDG projects in the Senatorial District, presently at 68% completion.
Computer centre/accessories/furniture at Kpite, Tai LGA.
Computer centre/accessories/furniture at Ngo, Andoni LGA
Computer centre/accessories/furniture at Nonwa, Tai LGA
Solar borehole/accessories at Obure Egberu, Oyigbo LGA.
Solar borehole/accessories at Kwawa, Khana LGA.
17. LEGISLATIVE RESPONSIBILITIES/ACHIEVEMENTS
Chairman, Senate Committee on Petroleum (Downstream).
Member, Senate Committee, Capital Market
Member, Senate Committee, INEC
Member, Senate Committee on National ID and National Population.
Member, Senate Committee on National Security and Intelligence.
Member, Senate Committee, MDGs
Chairman, Senate Joint Committee to investigate the Administration of the fuel subsidy scheme.
Senator Magnus Abe initiated the Local Refineries (licensing) Bill. The Bill is aimed at enhancing the construction of local refineries by private companies and individuals.
Conclusion
Senator Magnus Abe has distinguished himself as the hallmark of selfless service to humanity. If the election of any politician is based on merit, then the people of Rivers State, particularly those in the South Eastern section of the State, have no alternative than to re-elect this great son of Rivers State into the Senate with a very wide margin on March 19th, 2016 as he has positively redefined what political office is all about.
Finally, the macabre dance by Wike and his co-jesters in the politics of Rivers State reminds me of the immortal words of one of Nigeria's Finest Jurists, Late Justice Aguda and another of Nigeria's Finest Journalists, Late Giwa, keep ringing in my head. According toJustice Akinola Aguda, 'The day I realized that a wicked man too shall die, was the day I stopped fearing a wicked man' and to Dele Giwa who was even deeper in his reflection on the inevitable end of evil when when he stated and I quote, "Any evil done to man by another man shall be redressed; if not by man, then by God; if not now, certainly later, for the victory of evil over good is very temporary'
Eze Chukwuemeka Eze is a Media Consultant based in Port Harcourt, 08038199163
Disclaimer:

"The views/contents expressed in this article are the sole responsibility of the author(s) and do not necessarily reflect those of The Nigerian Voice. The Nigerian Voice will not be responsible or liable for any inaccurate or incorrect statements contained in this article."
Articles by Eze Chukwuemeka Eze