THIS ENGLISH GRADUATE HAS TRAINED SELF, 4 SIBLINGS FROM PROCEEDS OF HONEY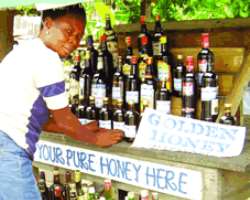 When the concept of class suicide was mooted, not many believed that it would later be a way of life in Nigeria. Today, Nigerians embrace class suicide like a ticket to heaven. Theodora Amaka Onah is one among many Nigerians who have taken to this hard but available lane to survival.
She is an English graduate from the university of Jos, Plateau State, but she earns her living selling honey. By this act, she has chosen to slug it out with the uneducated under the scorching sun and in the drenched rain instead of finding a white-collar job with a cozy, air-conditioned office, an official car, residential quarters and other official perquisites.
Located at 21 Road Junction, Festac Town, Lagos, is a makeshift shop with a zinc roof. Inside the shop are long tables and benches decorated with various sizes of bottles containing honey and displayed for sale. This is where Amaka carries on with her business, smiling daily to the bank to the chagrin of many who would hardly believe that she has seen the four walls of a tertiary institution, let alone an English graduate.
When Sunday Sun visited her shop and wanted to know why she has chosen to be in the honey business after bagging a Bachelors' Degree in English, she did not waste time before reeling out the circumstances that saw her in the business.
She said she was teaching in a private school but when she could not meet her daily needs from the teaching job, let alone those of her younger ones, she went down on her knees before God and asked Him to direct her on what next to do. It was after her prayers that God showed her the honey business in a dream.
Her story: 'After I obtained Teachers' Grade Two Certificate (TC11) and the Nigeria Certificate in Education (NCE), I got a job with UUJ, a transport company in Onitsha, Anambra State in 1996. I was posted to Lagos with a promise that I would be given accommodation and paid a handsome salary but the company never fulfilled any of those promises.
Then I got a teaching job with a private school but the salary was too poor. Even with the poor salary, the proprietor was not happy paying the meager salary at the end of the month. After reviewing my situation, I remembered where I came from. I am from Imilike in Udenu Loca Government Area, under Enugu North Senatorial Zone, Enugu State and God blessed my place with so many things that could yield enough money if I could bring them to Lagos. I discussed my plans with my teaching colleagues; I told them that even if I gather dust from my home and bring to Lagos, I would make money. They laughed at me because they thought I was joking.
'So, I got into prayer and asked God to direct me on what to do. One day, I dreamt where I was pursuing my nearest neighbour. The man ran to appoint where he jumped over some liquid substances on the ground. When I got there, I wanted to jump but I saw the liquid and I bent down to see what it was. It looked like honey, so I dipped my finger in it, tasted it and it was honey.
'When I woke up in the morning, I narrated my experience to one woman who was my friend and asked her if I could find a market for honey here in Lagos. She assured me that if I could get original honey to Lagos and people know me with it, there would be a time when my name would become honey because people would worship me. And that is exactly what is happening today. In the compound where I live, nobody knows my name any longer; they all call me honey, honey. Wherever I go – Lagos Island, Ikorodu, Badagry; it is the same song, honey what are you doing here?'
So, her encounter with God in her dream and the encouragement from her friend changed her financial status. She said she started the business in 2000 with six bottles of honey, which amounted to about N150 then, but today, Amaka boasts of over 40 jerry cans of honey running into hundreds of thousands of naira.
But, Amaka is an English graduate from the prestigious university of Jos, Plateau State. At what point did she decide to go back to school, having gone into the business with NCE and how did she do that? Sunday Sun asked.
Responding, she said: 'When I could not get a good teaching job with my NCE, I thought it was because I didn't have a first degree certificate; so I decided to go and get it. In 2003, I got a direct entry admission into the University of Jos, Plateau State to study English. I trained myself with the proceeds from this honey business. I graduated in 2007 and did my National Youth Service programme in Bauchi State between 2007 and 2008. After that, I didn't have to waste time looking for job because I already have one.'
'Honey' as her customers have nicknamed her said she trained four of her younger ones in secondary schools here in Lagos while she was an undergraduate in Jos. Though nobody assisted her, she did not complain because she was getting the money. At present one of her younger sisters is in her final year at the Federal College of Education, Eha-Amufu, Enugu State and she is still the sponsor, just from her honey business.
When our correspondent asked her if she preferred what she was doing to a white-collar job, she said: I can't even find brown collar job not to talk of white-collar job. I went for that 2008 Immigration recruitment exercise which claimed some lives. It took me 10 days to apply because everybody was requested to go to own state to apply. So, I traveled all the way from Lagos to Enugu, wasting my money and time and at the end of the day, nothing good came out of the whole exercise.
'I equally applied for Customs as well as Navy and the result was the same. I later found out that in Nigeria today, before you get any federal government job, you must be highly connected.
'However, I wouldn't say I have given up but I won't abandon the one that is available to me for a non-existent job; this is where I am enjoying my own white-collar job for now.'
One would also wonder how she gets the original supplies all year round and how she manages the swarm of bees that flung around her at her shop.
To this puzzle, the honey merchant said: 'In my village, there are bee hunters – the apiarists. At times, they stumble over the natural habitat of bees because we have thick forest in my area. Bees don't like breeding in waterlogged areas. So, since we found out that bees like inhabiting in our environment, there is a way apiarists entrap them.
'They get two native pots, make an opening on them from bottom, rub honey inside the pots and put some honeycombs inside the pots. They climb very tall trees and carefully situate the pots where children or anybody could not disturb the bees when they come to inhabit the pots. This is because once bees perceive people's noise; they will not be attracted to those pots. This method works by chance; if you are lucky, you may get about four pots in a whole year, otherwise some people set about 10 pots but don't get even one pot.
This is the type we call white honey. This is very difficult to get because first, you have to climb a very high tree. Secondly, you have to be very careful while harvesting it because any slightest mistake, the pot will fall off crashing on ground and spilling the content which sometimes must have taken about five to six month to come by. The idea behind this method is that it is protected from dust, leaves that fall off tree branches and maybe, rain and makes the colour to look very bright like petrol. It is very neat and the taste is quite different from the one got from their natural habitat.
'So, only honey harvested between February and May are the original. I travel twice every year to make purchases – February and April. On each trip, I buy as many as 40 jerry cans of honey and that is what sustains my sales all year round. 'As for the bees perching on me and not stinging me, all I need to do is to keep quiet. As soon as you are talking they will think that enemies are around and they will sting, but
when you don't talk, they will not sting. So, the secret is to keep quiet; don't talk and they will go away on their own.'
She also said that another way she ensures that her honey is original is to go to her village by herself and buy from the bee hunters. She said she also changed her business slogan from 'Nsukka Honey' to 'Nsukka Indigenous Honey' because she realized people are selling adulterated honey under the guise of Nsukka honey.
'I go back to my village. I don't buy honey here in Lagos. Even if you tell me that you brought it from my home, I won't buy. I must go home, see where they harvest it, buy them in batches and then pay village women who will squeeze the honey out from the comb, measure my honey in jerry cans and make sure that what I am bringing back to Lagos is real, pure, natural and raw honey,' she assured.
Talking about the caliber of her customers and their spread, the amiable lady of honey said: 'A number of prominent men come here to buy honey either for their family or elderly friends. I even have foreign customers; I mean white men who patronize me and when they come they would say, 'sorry lady, if it were in my place, the government will come up to support you.' There was a man who used to come and buy honey worth of between N5000 and N10, 000. He said he was once a commissioner of police in Lagos State; he buys it for his old father.
'Buyers come from the orthopaedic hospital Igbobi, Lagos, because honey is also used for bone. People also call from Cotonou, Benin Republic to know if I have stock and when they come and find a different face, they won't buy. I have customers by referrals and also through my business sticker etc. My customers come from Ikorodu, Badagry, Lekki and beyond Lagos.'
She said that one of the factors that make her honey to be expensive, apart from being original is the transport fare. She said she transports her wares through Ifesinachi Transport Company and each jerry can of honey costs N500 hundred naira from her village to Lagos. She buys a litre of white honey for N4000; so one jerry can costs about N20, 000. The least price one can buy honey from her shop is N200.
People have complained of different stomach problems ranging from running stomach to bellyache as a result of the kind of honey the consumed in the past.
Our correspondent observed that Amaka sells three different kinds of honey, which is easily distinguishable from their colour. She corroborated the existence of fake and adulterated honey but assured that she doesn't mix her honey.
She however explained the variation in colour thus: 'White honey, which is the first grade has a bright colour like petrol. This is the one that the apiarists climb a high tree and places the pots to attract bees. The second grade is golden honey. The difference between golden honey and white honey is in their mode of tapping. The hunter for golden may have forgotten about the pot for like two to three years before going to harvest it unlike the white honey that the hunter harvests within six to eight months. The more honey matures the more it changes colour. The last type is the one the hunter stumbles over by chance. The bees form the hive on their own; nobody arrange the habitat for them; they are in their natural environment. This type is much darker but the three are original. None of them can cause any stomach problem to consumers.'
Honey as a cash cow
She started with six bottles, which amounted to N150 in 2000. Today she buys about 40 jerry cans at N20, 000 each. A rough estimate will put her capital base to close to N1 million or more and she still counting.
She has also trained herself in the university with the business. She has trained her younger ones and she is training some of them. Though she refused to disclose how much she makes from the business, she said she doesn't bother about her daily bread, even though she dreams of riding a flashy car like other graduates.
She however advised the army of unemployed graduates to, 'remember that East or West home is the best. When you are looking for anything, remember your home and ask yourself the things that God blessed your place with. Don't fly in the air. It is good to look beautiful, fine and attractive but they should remember that little beginning makes a big ending.'