Fugitive British drug lord wanted over plot to smuggle £70m cocaine arrested in Ghana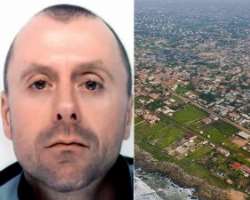 Britain's biggest drug lords was living the high life in Ghana while married to the daughter of the country's top banker.
David McDermott, 42, had been hunted by elite detectives since a mammoth cocaine haul was seized at Tilbury docks in 2013.
And when the National Crime Agency finally caught up with their man in a plush district of the Ghanaian capital Accra, they discovered how he had infiltrated the top rung of the West African nation's social elite.
McDermott, from Ormskirk, Lancashire, was nicked following a raid by NCA and Ghanaian police this week with extradition proceedings set to start within days.
MySpace
He was wanted for a £70million plot to smuggle 400kg of cocaine into the country while hidden among Argentine beef.
It is believed the haul was to be flooded onto the streets of Liverpool by a local gang.
The Mirror has reported how the kingpin has since been living like a king as the husband of Ramona Wampah – daughter of the country's central bank governor, Dr Henry Kofi Wampah.
The suspected crook had even had a child with Wampah, who hails from one of the country's most respected families.
An unnamed source said: "David had settled well into life in Ghana.
"He had what seemed to be an idyllic life, in a plush estate, having married into the Wampah family, in essence living like an African king.
"He and Ramona lived under the radar with their toddler but there are now serious questions as to how much information the family knew about his background.
"He plans to fight his case tooth and nail and has hired a set of lawyers to appeal his extradition.
"If he can avoid coming back to the UK, he absolutely will do it, and he's got the money and connections to fight it."
the Sun, UK