Ibori Escapes To Cameroun Through The Creeks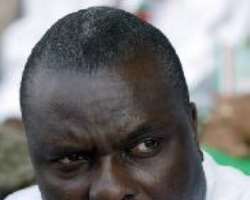 Ibori Escapes To Cameroun Through The Creeks
The musical chairs between the former governor of Delta State, James Ibori and the Economic and Financial Crimes Commission [EFCC] appear to have come to a halt. This is as new information indicates that the former governor may have escaped the fangs of the EFCC via the assistance of Niger Delta militants. This information was confirmed by a source in the EFCC.
As gathered, the former governor escaped in the early morning hours of Saturday April 25th 2010 through the creeks via the assistance of the militants stated in the area. It is believed he escaped to the neighboring country of Cameroun.
James Ibori has been in the searchlight of the EFCC over alleged mismanagement of Delta State treasury.
Stay tuned...
|
Article source